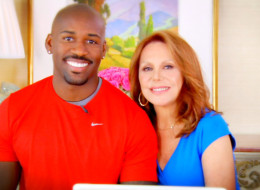 I was thrilled to be joined by Dolvett Quince, "The Biggest Loser" trainer and author of "The 3-1-2-1 Diet." We talked about everything from how to start a workout regimen, to how to eat healthy while traveling, to what an ideal day of eating and exercise should consist of, and more! Watch the full interview to learn more about keeping healthy and fit.
Check out Dolvett's new book, "The 3-1-2-1 Diet" -- available now!
Protein is the staple for creating and building healthy muscle. As you're building muscle, protein works to help sustain that muscle. Be sure to pack on the protein after your workout.

If you don't have a gym nearby, there are plenty of outdoor activities that will help you get in shape, such as bike riding and hiking.

One easy way to make better choices when it comes to your eating habits is to incorporate one green vegetable into your diet each day.

Make sure that you're eating breakfast, lunch, and dinner every day. The more you eat, the more portion control you'll have, which will make your metabolism work faster.

Weight loss plateaus occur when your body gets used to the workout regimen that you're consistently putting it through. Try doing fitness challenges like CrossFit, Tough Mudder, and Wounded Warrior in order to shock your body. Even if you only do this once per week, your body will still respond.

Warm your up body by doing your cardio workout first in order to get your blood circulating. Then follow up with strength training once you're warmed up.

Every hour on the hour during your work day, put your sneakers on and climb the stairs for 15-20 minutes. If you're moving, you're burning calories.

Your body needs rest, especially when you're on a workout regimen, so be sure to devote 6-8 hours to sleep per night.

The more you have planned out when it comes to losing weight, the more successful you'll be. Know the amount of calories that you should be putting into your body per day, and how those calories are going to affect your weight loss goals. The more educated you are on the foods that you're eating, the more weight you will lose.

When it comes to reaching your weight loss goals, a negative mindset can be your biggest enemy. In order to change your body, you have to be willing to change how you perceive the things that can get in your way.
Add Marlo On Facebook:
Follow Marlo on Twitter:

Weekly Newsletter

Sign up to receive my email newsletter each week - It will keep you up-to-date on upcoming articles, Mondays with Marlo guests, videos, and more!

Sign up here