One British man recently learned a hard life lesson while drooling over photos of a model in lingerie online: fantasize all you want, but never comment about how you'd totally leave your wife for a one-night stand with the woman in the photos.
That's what happened Tuesday, when a Manchester man named Tom got all hot and bothered over photographs showing model and TV presenter Kelly Brook in sexy lingerie on the Daily Mail's website, including this photo:
Tom liked what he saw, so he beelined to the comment section of the article to let readers know he found Brook "so sexy" that he would happily "leave [his] wife and kids for one night with her!"
Commenters were outraged at Tom's boldness. "I hope your wife reads this," one user wrote, "and the first thing you see when you wake up tomorrow is your belongings packed in a bin bag on the floor."
Outraged, too, was his wife, who saw the remark because Tom's Daily Mail comments are apparently linked to his Facebook account. (Amateur move, Tom.)
"My idiot husband forgot his comments are linked to his Facebook account," Tom's wife explained. "You don't deserve our beautiful kids and I hope your brother has room on his sofa because I'm having the locks changed."
Ouch. Here's the full exchange in all its internet fail-rific glory: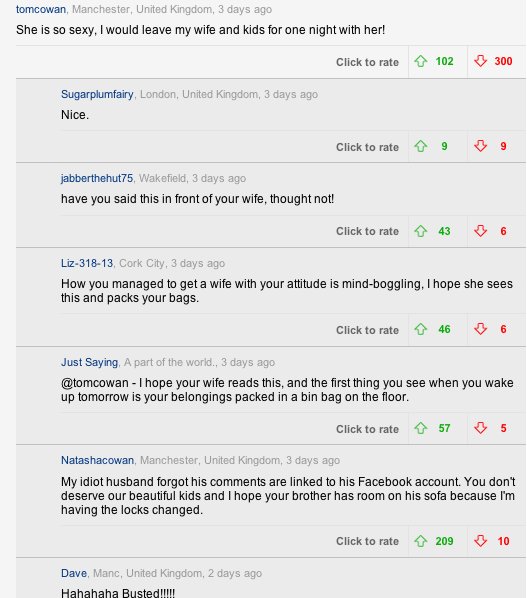 (H/T Gawker )
Also on HuffPost:
Loading Slideshow
ALL CAPS

Because she's excited...and she can't see.

Grandma, Your Cheerleader

Maybe not the support he wanted.

Necessary Status Update

Grandma just saying hi.

Attitude Adjustment

Grandma is always looking on the bright side.

Kraft Mac & Cheese Is Out Of Control!

According to grandma.

Important Reminders

I wonder if she'll ever find a use for LMAO.

Grandma's With You!

If only she could copy and paste.

Are These Boots?

Oh, grandma.

Listen Up!

Give her a giftcard, Walmart, or else.

He's So Lost

And so are grandma and grandpa.

Lookin' Good, Gramps!

Love that sexy lip smooch.

Grandpa's Got A Sense Of Humor

And it's dark.

TMI Grandma

But thanks for sharing?

You Fixed Facebook?

I don't think they get it.

Turn That Frown Upside Down

Grandma's just got a unique view of the world...and she is technologically illiterate.

Just Stop

Grandma, step away from the computer.

A Kernel Of Truth

We could've done without.
Keep in touch! Check out HuffPost Divorce on Facebook and Twitter.