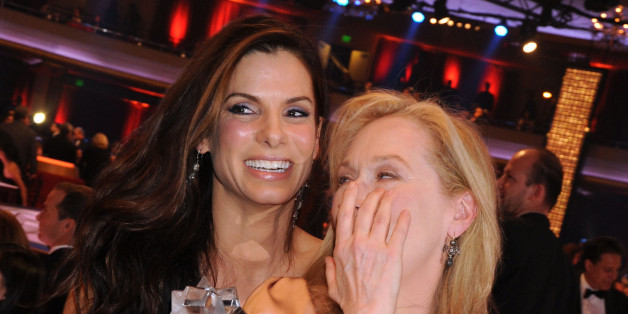 The awesome friendship between Sandra Bullock and Meryl Streep is now more awesome. "If Meryl and I get in a ring, she'll kick my ass," Bullock told ShortList.com in a new interview. "People don't realize that there's a side of Meryl that's just mean. You walk away and she'll just rip your dress ... I know not to turn my back on her."
This, of course, isn't the first time Bullock has talked about Streep in such a manner. Their banter dates back to awards season in 2010, when Bullock and Streep were both nominated for Best Actress.
Perhaps more dead orchids will be in play this year: Bullock has received early awards buzz for her lead role in "Gravity," while it's expected that Streep could score her 15th Best Actress nomination (and 18th overall nomination) for "August: Osage County."
SUBSCRIBE AND FOLLOW
Get top stories and blog posts emailed to me each day. Newsletters may offer personalized content or advertisements.
Learn more