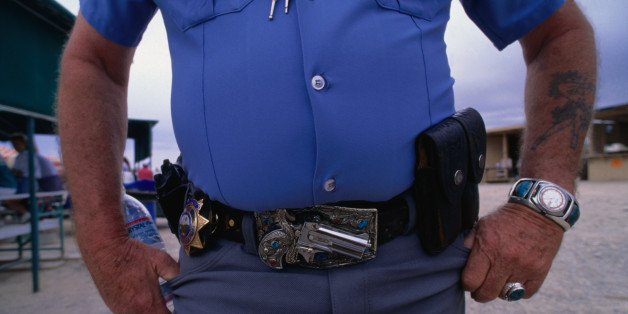 Police departments all over the country are imposing tattoo bans of various scope on their officers, but it is unclear what difference these bans make on their abilities to enforce the law.
The New Orleans police department is in the process of reviewing its proposed tattoo ban in light of this concern. "As we reach temperatures close to 100 degrees on some days, it just seems like cruel and unusual punishment, just because you are proud that you served in the U.S. Navy or you put the name of your child on your arm," a Fraternal Order of Police spokesman said during this summer's debate over the ban.
Finally, on an island where every branch of the military has at least one base, no doubt the Honolulu PD will also face the problem of a large portion of their officers having military backgrounds. The military has a strong tattoo culture, and veterans wear their ink with pride. Retired military members provide one of the best pools from which police departments could and should recruit.
Some officers agree, believing a tattoo-less police force will aid in their community interactions. Jeffrey Yzquierdo, who has a full-sleeve tattoo on his arm, had been with the Phoenix Police Department for 11 years when he told the New York Times that he had no problem with a tattoo ban. "Some people want nothing to do with me," Yzquierdo said, indicating he was frustrated with the public's negative response towards him because of his tattoos.
But many police departments' bans involve an incredible amount of bureaucracy and nitpicking that possibly takes focus away from much more important concerns. Department bans specify the size of the allowable tattoos, "no greater than 3" X 3" size each" and only one on each arm for new hires in Palm Beach County. (For veterans, a little leeway: "No larger than a notecard.") In Phoenix, tattoos could not be larger than a "3x5 index card."
As Honolulu moves forward with its tattoo ban, NOPD continues to reconsider its ban. It may be one of the few departments heeding the argument that the police have bigger fish to fry. According to The Advocate, New Orleans loses an average of one police officer every three days.
"I think it's bad for the city," Police Association of New Orleans President Mike Glasser said. "It accomplishes nothing. I don't know if it makes for a more professional appearance, but it doesn't make for more professional policing."
In fact, when the Des Moines Police Department banned tattoos in 2009, police union president Stewart Barnes argued that his tattoos actually helped him do his job. Then 48 years old, Barnes said his ink helped local youth relate to him. ""They come up to me and talk to me about tattoos."
Also on HuffPost:
The Worst Tattoos You'll Ever See
SUBSCRIBE AND FOLLOW
Get top stories and blog posts emailed to me each day. Newsletters may offer personalized content or advertisements.
Learn more