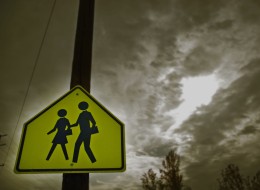 The driver of a car that hit two pedestrians in Chicago landed in the hospital alongside his victims after witnesses beat the man up post-crash.
WGN reports a fight of about 10 people, mostly family members of the victims, broke out around 7 p.m. when a car hit the pedestrians in the 9300 block of South Cottage Grove Avenue Friday.
The age of the male pedestrian who was hit was not released, though the Tribune reports he was hospitalized and remained in critical condition as of Saturday morning. The other pedestrian, a 49-year-old woman, was taken to a separate area hospital in stable condition.
A witness told WGN-TV the woman "flew up in the air and landed on her face" after being struck by the car. Reports conflict as to whether the 59-year-old driver was pulled out of the vehicle or if he exited the car on his own before being attacked. He was ultimately taken in stable condition to the same hospital as the woman.
As ABC Chicago reports, paramedics had to call for police backup after witnesses started to pummel theh driver once he was out of the car.
No arrests or citations were made.