Mexico's new soft drink tax could push the nation's Coca-Cola makers away from the cane sugar that's made "Mexicoke" a cult hit in the US.
Executives from the second-largest bottler of Coca-Cola in Latin America suggested that a shift away from cane sugar might be in the cards as a result of the steep sales tax on soda Mexico's congress approved on Thursday (Oct. 31). American Coke enthusiasts claim the Mexican version tastes better than what they get in the US, which some say is because Mexican Coca-Cola is made with cane sugar rather than high-fructose corn syrup.
On an earnings call with analysts last week, the head of Arca Continental SAB said that the Mexico-based Coca-Cola bottler could "move to more fructose," which is cheaper than cane sugar. Arca Continental's Francisco Garza added "that's a very important part of the savings that we are foreseeing now." The independent bottlers who distribute Coke in local markets use the same recipe but have some latitude from Coca-Cola to tinker with the sweetening ingredients. (Arca Continental hasn't yet responded to a request for further comment.)
More From Quartz:
-- Want to be an entrepreneur? First, ask yourself these five questions
-- The six biggest mistakes of managing an introvert
-- Get ready for in-store advertising that looks you straight in the eye
-- Cash bonuses are better than raises for getting people to work harder, say Harvard researchers
Mexico's new soda levy will tack on an extra peso ($.08) per liter to all soft drink sales in the country. The move is part of a growing campaign to address what has become an obesity epidemic—over 70% of Mexico's population is now overweight. And the hope is that it will help curb the country's unmatched affinity for soda. On a per capita basis, Mexicans drink more Coca-Cola products than residents of any other country in the world.
Any decision by Arca Continental—or Coca-Cola's other large Latin American bottlers—to turn more heavily toward high-fructose corn syrup would surely dismay fans of Mexicoke around the world. Over the last decade, "hecho en Mexico" Coca-Cola has acquired cult status.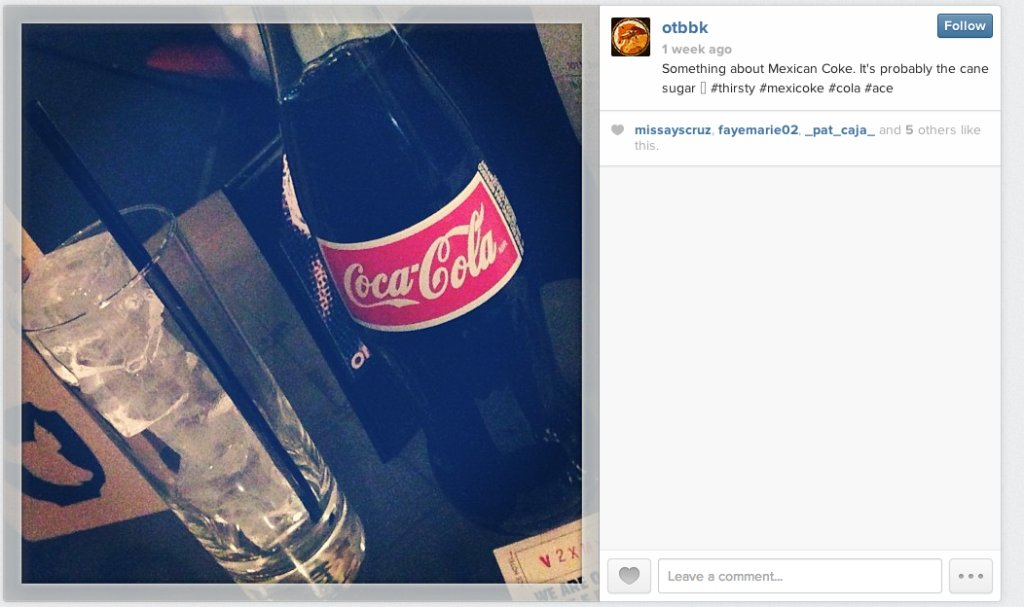 After steadily cutting the amount of real cane sugar in Coca-Cola in the early 1980s, most US Coca-Cola bottlers had switched over to high-fructose corn syrup by the middle of that decade. When Coca-Cola introduced Coca-Cola Classic in 1985—after the disastrous attempt to launch New Coke—it was sweetened with corn syrup rather than cane sugar, which drew the ire of the US sugar lobby.
Latin American bottlers have some leeway when it comes to how they mix up their pop. The largest Coca-Cola bottler in Latin America, Coca-Cola FEMSA, explains this in its annual report: "Under our agreements with The Coca-Cola Company, we may use raw or refined sugar or [high-fructose corn syrup] as sweeteners in our products." Coca-Cola FEMSA opts for different sweeteners in different markets. For instance in Colombia, it uses sugar as a sweetener. In Argentina, it's high-fructose corn syrup.
For the record, while Mexican bottlers might shift their mix of sweeteners toward high-fructose corn syrup, it's unclear what, if any, implications that would have for consumers outside Mexico who've grown accustomed to cane sugar Coke. And it should also be noted that Mexicoke fans might already be getting more corn syrup than they think. Researchers from the University of Southern California's Keck School of Medicine tested Mexican Coca-Cola purchased in east Los Angeles back in 2010. Their findings:
The Mexican Coca-Cola lists "sugar" on the ingredient list, but the laboratory did not detect any sucrose, but rather near equal amounts of fructose and glucose, results which suggest the use of [high fructose corn syrup]. According to the FDA guidelines, the word "sugar" can only be used in reference to sucrose.
Also on HuffPost:
Loading Slideshow
Apple Maps

Apple CEO <a href="http://www.huffingtonpost.com/2012/09/28/tim-cook-apology-apple-maps_n_1922378.html">Tim Cook issued an apology</a> Friday for the company's new Maps app. Cook directed users to other map apps in the Apple store or websites like Google or Nokia until Apple's version is fixed.

Bank Of America Debit Card Fee

Bank of America announced last year that it was planning to charge customers a $5 fee to use their debit cards. After an intense customer backlash, the <a href="http://www.huffingtonpost.com/2011/11/01/bank-of-america-debit-card-fee_n_1069425.html">company dropped the plan</a>.

New Coke

In 1985 <a href="http://www.msnbc.msn.com/id/7209828/ns/us_news/t/it-seemed-good-idea-time/#.UGXCa_mfHll">Coca-Cola decided to mess</a> with its iconic product, according to NBCNews.com. The result: Epic failure. With customers comparing the change to trampling the American flag, the company pulled the product after just a few months.

Crystal Pepsi

Pepsi <a href="http://investorplace.com/2011/02/loud-sun-chips-pepsi-branding-disaster-failure/">launched a clear version</a> of its cola drink in 1993, but the product didn't last long. The company pulled it from the shelves in 1994, according to InvestorPlace.com.

Lawn Darts

Lawn darts, everyone's favorite 1980s backyard game, turned out to be pretty dangerous. The Consumer Product Safety Commission <a href="http://www.popularmechanics.com/technology/gadgets/toys/4347051#slide-1">recalled the toys in December 1988</a> after many were injured and three people died sending the steel darts through the air, according to Popular Mechanics.

Ford Edsel

In 1957, Ford launched the Edsel, a car the company billed as hot and revolutionary, according to the <em>Washington Post</em>. Problem: <a href="http://www.washingtonpost.com/wp-dyn/content/article/2007/09/03/AR2007090301419.html">It turned out to be sort of "blah."</a> By the time the company pulled the car in 1959, it had lost about $250 million.

Window's Vista

When it debuted in January, 2007, Microsoft's newest operating system was <a href="http://www.spike.com/articles/n2yhee/the-top-10-epic-fails-in-product-launch-history?page=2">slammed by consumers</a>. As a result, businesses and personal computer users were slow to adopt it, according to Spike.

The Arch Deluxe

McDonald's launched a luxury burger geared towards the adult set in 1996 with a <a href="http://www.nytimes.com/1998/04/19/magazine/steal-this-burger.html?pagewanted=all&src=pm">$100 million advertising campaign</a>, according to <em>The New York Times</em>. But the mature hamburger was ultimately a flop.

Apple Newton

In 1993, Apple <a href="http://www.dailyfinance.com/photos/top-25-biggest-product-flops-of-all-time/#photo-11">launched the PDA device, a precursor to the palm pilot</a>, according to DailyFinance, but it turned out to be a bust, thanks to its high price and bulkiness. The company pulled the Newton in 1998.

Sony Betamax

Sony poured <a href="http://articles.latimes.com/1989-09-28/business/fi-409_1_sony-corp">20 years of research into its Betamax</a> videocassette recorder, but was ultimately beat out by the competition, according to the <em>Los Angeles Times</em>. Matsushita developed the VHS system, which became more popular among companies making the devices -- and companies making films -- rendering the Betamax obsolete.

Qwickster

In September of last year, Neflix announced that it would be separating its online streaming service from its DVD service and calling <a href="http://www.huffingtonpost.com/2011/12/30/tech-fails-2011_n_1173313.html">the DVD branch "Qwickster."</a> The proposal turned out to be such an epic fail that the company scrapped the experiment last November before it even launched.

Clairol's "Touch Of Yogurt" Shampoo

When Clairol came out with its yogurt-based shampoo in 1979, they thought it would be a success, thanks to <a href="http://www.huffingtonpost.com/2012/01/06/worst-product-launches-ever_n_1182219.html">widespread interest in the test marketing</a> phase. But it turned out to be a flop; customers apparently don't want to put food in their hair.

BlackBerry Playbook

BlackBerry launched its Playbook without apps for email, contacts or any of the other things people use tablets for. The result: The <a href="http://www.huffingtonpost.com/2011/12/30/tech-fails-2011_n_1173313.html#s577006&title=BlackBerry_PlayBook">company slashed prices</a> on the device as the holidays approached.

HD DVD

Toshiba's HD DVD experiment ended up <a href="http://www.zdnet.com/blog/storage/hd-dvd-post-mortem-why-did-toshiba-fail/294">being trounced by Sony's</a> Blu-Ray player as studios and customers opted for the latter.

The Yugo

The car deemed by many to be one of the worst vehicles ever exported to the U.S. was met with widespread criticism when it <a href="http://www.cbsnews.com/2100-500395_162-4616249.html">landed on American shores in 1986</a>. Available for just $3,990, the car did terribly in crash tests, according to CBS News.

Nike Black And Tan Sneakers

Nike launched a sneaker (not pictured) in the lead up to St. Patrick's Day that offended some Irish people. The shoe called "Black and Tan"<a href="http://www.huffingtonpost.com/2012/03/14/nike-black-and-tan_n_1344197.html"> shares its name</a> with a British paramilitary unit that attacked Irish civilians in the 1920s.