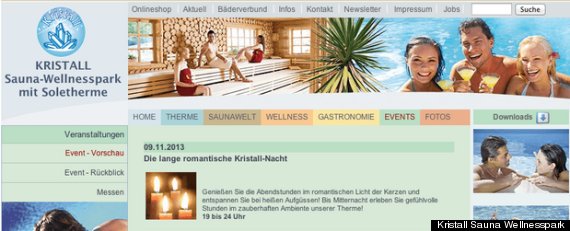 Blogrebellen caught a screenshot before the inappropriate ad was taken down.
An unidentified employee from the sauna told The Jerusalem Post on Monday that the advertisement was a "misunderstanding and refers to the name of the firm," as they use "Kristall" as a prefix for other events and promotions on their website.
Their pun went epically wrong, as they chose November 9th, the 75th anniversary of Kristallnacht, for their promotion, which originally read, "The long romantic Kristall-Nacht: Enjoy the evening hours in romantic candle light and relax."
An apology on their website said, "'We are ourselves ashamed of the mistake."
ALSO ON HUFFPOST:
Lost Synagogues Of Europe
SUBSCRIBE TO & FOLLOW THE MORNING EMAIL
The Morning Email helps you start your workday with everything you need to know: breaking news, entertainment and a dash of fun. Learn more