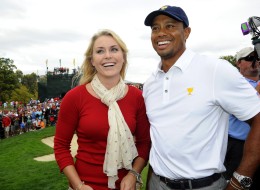 Competitive? Definitely. Laid back? Sure. But dorky-goofy? That's probably not what you imagine when you think of Tiger Woods.
Yet, girlfriend Lindsey Vonn says that's exactly what the golf pro's like away from the cameras. The professional skier sat down with Katie Couric recently to talk about her relationship with the PGA Tour champ.
Describing Woods, Vonn said he is always making jokes and the two have "very similar personalities."
"If there's one thing I could say he's funny. He's goofy -- like dorky-goofy," Vonn confessed.
Well, Woods did play along well when Vonn put a squirrel on his shoulder during the President's Cup in October.
During the interview, which is set to air Tuesday, Vonn also discussed her return to skiing and plans for Sochi. The Olympian will make her official return next month at Beaver Creek in Colorado before heading to the 2014 Winter Olympics -- where she intends to take home a medal -- in February.
Watch a clip from Vonn's sit-down with Couric above.