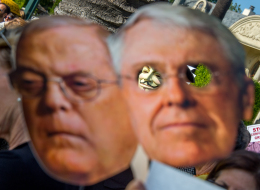 IOWA CITY, Iowa — IOWA CITY, Iowa (AP) — A powerful interest group's aggressive efforts to sway a normally sleepy city election in Iowa may have backfired.
Coralville, Iowa voters elected John Lundell as mayor and re-elected two incumbent City Council members Tuesday, turning out in record numbers to reject a campaign by Americans for Prosperity to blame the trio for the city's $280 million debt.
Residents said the conservative group's mailings, phone calls and canvassing fueled a backlash as the upper middle-class, Democratic-leaning city of 20,000 residents rallied behind the three.
Vice President Joe Biden called Lundell on Tuesday to applaud the city's voters for rejecting Americans for Prosperity's efforts. The group was founded by the billionaire brothers Charles and David Koch.
AFP's Iowa director says the group's campaign succeeded in educating voters about the debt.