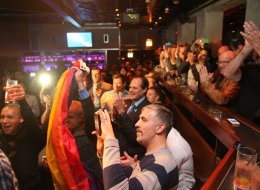 On the heels of the Illinois General Assembly's move to put the state on the track to be the 15th U.S. state to legalize same-sex marriage Tuesday, marriage equality advocates were understandably ecstatic.
In Chicago, Sidetrack was the host of an impromptu community celebration of marriage equality coming soon to the land of Lincoln. Among the guests were Mayor Rahm Emanuel.
It's great to have @ChicagosMayor stop by and join the celebration. #equalityillinois #MarriageEquality pic.twitter.com/IZHwjyp425

— Jim Hennessey (@JimHennessey) November 6, 2013
With the legislation now approved in both the state House and Senate, the bill will now head to Gov. Pat Quinn's desk for his signature. The governor has repeatedly vowed to sign it and was an active proponent of the legislation. According to the Washington Post, a Quinn aide said the governor plans to sign the bill into law by the end of the month.
Same-sex marriages will then be able to begin June 1, 2014.
AP

AP

AP

Getty Images

Getty Images

Getty Images

Getty Images

Getty Images

Getty Images

AP