See, in Boston, you simply can't get away with terrorizing hundreds of people or even one man's inanimate object, strangers proved this week.
The day after the Red Sox beat the Cardinals, Chad Duncan was feeling pretty good about his adopted city, until he learned that revelers had attacked his car, the Boston Globe reported.
In the hours following the World Series, fans took to the streets. Some reveled in standard celebratory fashion, while others –- like those who flipped over and bashed in Duncan's Toyota Corolla –- took it to dangerously destructive levels.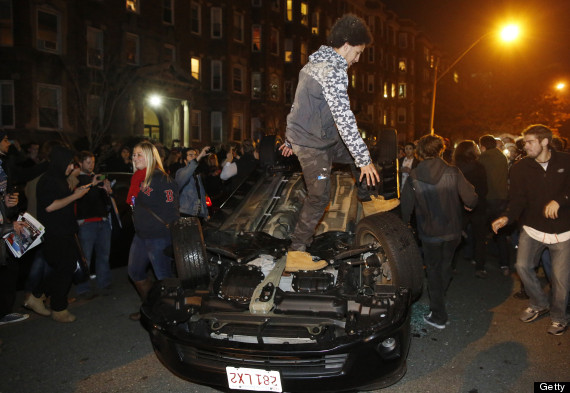 When Duncan retrieved his car, he estimated that he was out about $2,500 –- an exorbitant figure that enraged people who had never even met the unlucky guy.
So, when Bobby O'Neill –- a complete stranger -- heard the unfortunate news, he decided to do something about it.
"Especially after this year, no one who truly loves the city of Boston should ever engage in willful wanton destruction," O'Neill wrote on the page. "Let's band together and help Chad pay for what these idiots did. He shouldn't have to."
Donors said they felt moved by the collaborative spirit, reminiscent of the "Boston Strong" movement that developed after the attacks.
"Let's not let the tiny minority overshadow the rest of us," one supporter wrote.
"Boston's Better Than That" may have hit its original fundraising goal, but the campaign will remain open for another few days if you would like to donate to the One Fund in Duncan's honor. Find out more here.

Also on HuffPost:
PHOTOS: Boston Celebrates Red Sox Win
SUBSCRIBE AND FOLLOW
Get top stories and blog posts emailed to me each day. Newsletters may offer personalized content or advertisements.
Learn more