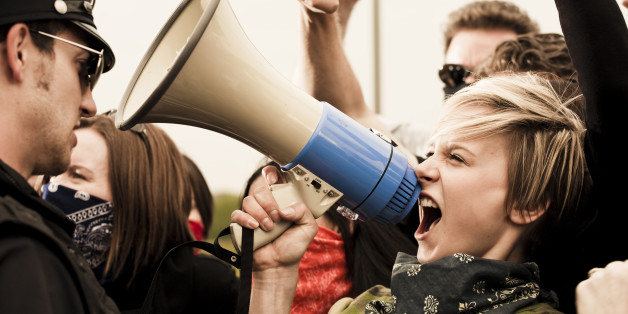 House Sergeant-at-Arms Kevin Kuroda announced Thursday afternoon that the Capitol Rotunda, the public gallery's legislative chambers and even Beretania Street would be divided equally between people on opposing sides of the debate over Senate Bill 1.
The mauka (toward the mountains) side of the rotunda will be designated for people who support gay marriage and opponents will get the makai (toward the sea) side. This line will be extended into the gallery.
Opponents of SB 1 who want to line either side of Beretania Street and wave signs — as they have been doing since hearings began on Oct. 29 — are supposed to stay between the Father Damien statue and Punchbowl Street, while supporters are being asked to remain on the town side of the statue.
"It's a very emotional, passionate issue," Kuroda said, adding that he was glad leaders from both sides have agreed to the plan and are going to help monitor its enforcement.
New barricades were set up Nov. 7, 2013, in front of House chambers at the Capitol.
New Hope Pastors Wayne Cordeiro and Allen Cardines Jr., along with ACLU Legal Director Lois Perrin, joined Kuroda at a brief press conference in the rotunda to announce the heightened security measures.
Kuroda said he has been reaching out to both sides ahead of Friday's hearing, which is expected to draw large groups, to develop a plan that avoids confrontations and, in turn, the need for police intervention.
"We want to encourage maximum participation but minimize conflicts," Kuroda said. "We will do what we need to do."
Perrin asked all supporters and opponents of SB 1 to conduct themselves with "civility and obedience."
"For voices to truly be heard, it needs to be done in a calm, collected manner," she said.
Cardines said this is one thing he agrees with the American Civil Liberties Union on.
"We want everybody to come out and be [participants] and be passionate, but respectful and kind to one another," he said.
The House is expected to pass the bill on its third reading Friday; the session starts at 10 a.m. The bill would then go back to the Senate next week so senators can decide if they accept House amendments that broaden the religious exemption or if a conference committee is needed to resolve differences between the two versions.
Related on HuffPost:
Gay Marriage In The United States
SUBSCRIBE AND FOLLOW
Get top stories and blog posts emailed to me each day. Newsletters may offer personalized content or advertisements.
Learn more