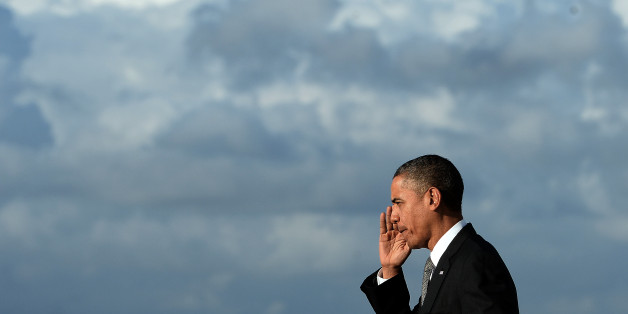 Barack Obama's approval rating continues a year-long decline, but the causes are the subject of debate. Chris Christie's ratings in New Jersey have remained high since Hurricane Sandy. And we check in with an eight-year-old aspiring pollster. This is HuffPollster for Friday, November 8, 2013.
OBAMA'S SECOND TERM SLUMP CONTINUES: Pew Research - "Barack Obama has had a difficult year since his reelection victory. His overall job rating stands at 41%, down 14 points since last December. A majority (53%) now disapproves of the way he is handling his job as president….Obama's second-term job ratings have followed a similar downward trajectory as those of his predecessor, George W. Bush. A year after his reelection, 36% approved of Bush's job performance, down from 48% in December 2004. In contrast, the two prior presidents who won reelection – Bill Clinton and Ronald Reagan – enjoyed positive ratings over the course of the next year. At comparable points in their fifth year in office, 58% approved of Clinton's job performance while Reagan's job rating stood at 62%." [Pew]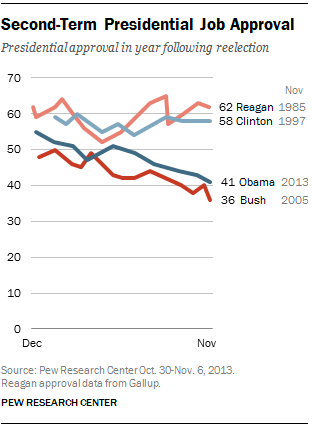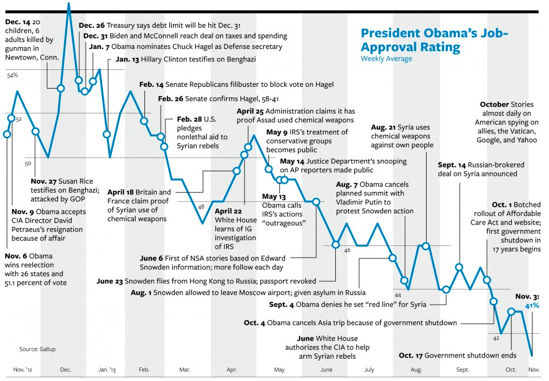 SUBSCRIBE AND FOLLOW
Get top stories and blog posts emailed to me each day. Newsletters may offer personalized content or advertisements.
Learn more