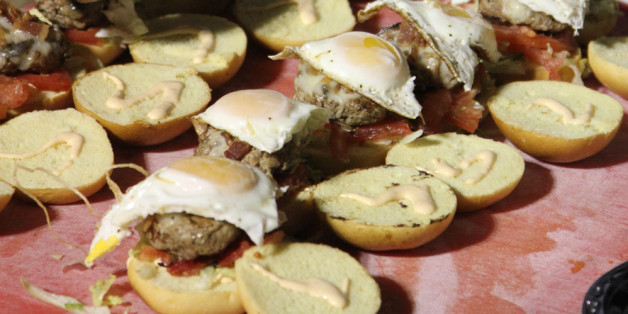 A vegan friend once dreamed she had to eat her way out from under a giant slice of ham, and declared it the worst nightmare ever. For us, being swaddled in a massive layer of meat sounds like heaven -- so you can imagine that Coral Gables' Burgerliscious, the annual celebration of all things protein + bun, is the one of our favorite events of the year.
More than 20 of the Gables' best restaurants set up shop in Ponce Circle Park Thursday night, using everything from alligator meat to secret sauces to fried eggs and cilantro aioli to earn the votes of the crowd -- and those of judges Chef Jamie De Rosa of Tongue & Cheek, Gables Mayor Jim Cason, Giovanny Guitierrez of ChatChowTV, Nick Pena of Y100, and Johnny Carrascal of South Florida Burger Overload.
While music kept things lively and Sam Adams dished out beer, the happy crowd got down to chow. Check out the 9 most delicious burgers we were able to scarf down before getting too full to go on -- and keep reading to see who won:
SUBSCRIBE AND FOLLOW
Get top stories and blog posts emailed to me each day. Newsletters may offer personalized content or advertisements.
Learn more