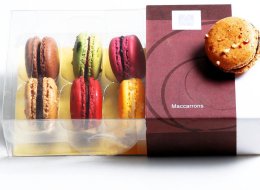 Need a little added inspiration to get out there and spend some cash in the 305 this Small Business Saturday?
HuffPost Miami handpicked the following locally made gifts to showcase just how much talent and goods we have in our Magic City. Buy local and support a fellow Miamian!
Mochila Bags, $90 YU Handcraft After an inspiring trip to Colombia, Madeleine Furuvald, a Swedish social entrepreneur living in Miami, launched this bright collection of mochila bags. Available here.

Paraitos Throw Pillow, $20 Piktorama A former art director for Nickelodeon Latin America, Miami illustrator Amaranta Martínez now designs cheerful wearables and gifts reminiscent of the happy pop work of artist duo FriendsWithYou. Available here in both indoor and outdoor fabric.

Three Rose Necklace, $78 Calamarie Miami entrepreneur Catalina Lemaitre designs eco-chic jewelry that is handmade by woman in Colombia. Read how Lemaitre quit her day job to pursue this passion here. Available here.

Pumpkin Spiced Latte Soap, $7 Lana Bella Indulge your senses with this handcut bar of suds, whipped up right here in Miami. Available here.

Salvaged Leather and Wool Clutch, $75 Heist Designer Tiffany Zadi is the Miamian behind this awesome line of jewelry and accessories. Available here.

Rainbow Stripe Strapless "Prism" Dress, $369 Miss Brache Miami designer Diane Brache specializes in retro silhouettes and party dresses -- this one, made from organic cotton, is custom made so you can even pick the colors of the stripes! Available here.

Macarons, prices vary Atelier Monnier This French bakery in Pinecrest offers cheerful boxes of freshly made macarons or even towers of 60 or more for one-of-a-kind gifts. Available here.