For Todd Ray, it was a snap decision to own a two-headed snapping turtle. Keeping both heads happy, healthy and content isn't easy.
Ray owns the world's largest collection of two-headed animals, which he showcases at the Venice Beach Freakshow in Los Angeles.
Recently, he added the two-headed snapping turtle to his multi-headed menagerie, naming one head "Thor" and the other "Loki." He said they're fitting names, considering the animosity that snapping turtles generally feel toward one other is similar to the antipathy experienced by the two Norse gods.
"I hope they can make it [to adulthood]," Ray told The Huffington Post. "These are vicious animals. I had a two-headed snapping turtle in the past and the two heads hated each other. These creatures are not normally around others."
So far, they may not be too fond of their caretaker. The video above shows them trying to bite him as he cleans them with a Q-tip.
"Ah! Thought he was going to get me," he said, when one of the turtle heads snapped at him. "Look at him try to get me from behind."
If Ray can keep the turtles from literally snapping each other's heads off, he said the two-headed reptile could eventually weigh 150 pounds.
"That would be something," he said. "They'd look like something out of a fantasy book."
Whether the turtle "Thor" and "Loki" become as popular as the movie characters remains to be seen, but Ray says they will make an appearance on the second season of the AMC series "Freakshow," expected to debut sometime early next year.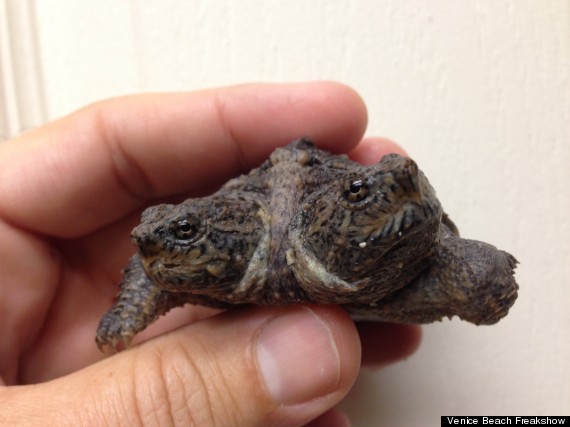 Earlier on HuffPost:
Loading Slideshow
Todd Ray's Two-headed Animals

This two-headed hognose snake is the newest member -- or members -- of Todd Ray's collection of multi-headed animals. It is about one month old and Ray is trying to find a name for it.

Todd Ray's Two-headed Animals

Ray spent around $5,000 for Pancho and Lefty after they were born in May, 2010. He believes they are the rarest animals in the world and is proud he's been able to keep them alive for a year since most people didn't think they'd survive a month.

Todd Ray's Two-headed Animals

According to Ray, Pancho is the more aggressive one, and prefers crickets. Lefty, on the other hand is more docile and prefers greens.

Todd Ray's Two-headed Animals

Laverne and Shirley is what Ray calls this two-headed king snake born in Italy. Ray says when he feeds one a mouse he has to put a playing card between them because otherwise they'd start eating each other.

Todd Ray's Two-headed Animals

Ray says Lenny and Squiggy, a two-headed Albino Hognose snake, is considered by some to be the rarest snake on Earth.

Todd Ray's Two-headed Animals

Myrtle and Squirtle, a two-headed turtle, was Ray's first double-domed creature. He bought her 10 years ago and says he was mesmerized. "It was literally the cutest thing I ever saw in my life," he said.

Todd Ray's Two-headed Animals

Jeckyl and Hyde is the latest two-headed creature owned by Todd Ray, who displays them at the Venice Beach Freakshow in Los Angeles. A little more than five months old, Ray says Jeckyl does the eating and Hyde only drinks water.