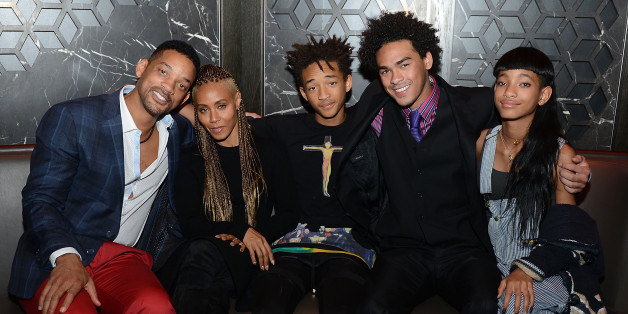 Will and Jada Smith were all smiles when they stepped out in Las Vegas Sunday, despite the recent cheating rumors surrounding the actor and his co-star, Margot Robbie.
Will and Jada were spotted in Sin City on Nov. 10 with their family to celebrate the 21st birthday of his son, Trey. The couple, who enjoyed a special dinner at Hakkasan at the MGM Grand with Trey, Willow and Jaden, apparently got cozy at the party.
"They didn't leave each other's side," a source told People magazine. "They were even dancing at one point."
The night out comes on the heels of Star magazine's cover story claiming Will cheated on Jada with Robbie, 23, while filming "Focus" in New Orleans. The gossip magazine obtained photos of the two joking around in a photo booth, with the young actress lifting up her shirt to expose her bra.
"Once they pulled the curtain back to take the pictures, they let their inhibitions run wild, laughing, hugging and nuzzling each other in the dark," a supposed insider told the mag.
Robbie herself has since denied the gossip.
Been working non-stop, just catching my breath. There's absolutely no truth to the ridiculous rumor in Star mag...
...It's disappointing that goofing around on set could be taken so out of context.
"I've always told Will, 'You can do whatever you want as long as you can look at yourself in the mirror and be OK,'" she said. "Because at the end of the day, Will is his own man. I'm here as his partner, but he is his own man. He has to decide who he wants to be and that's not for me to do for him. Or vice versa."
SUBSCRIBE AND FOLLOW
Get top stories and blog posts emailed to me each day. Newsletters may offer personalized content or advertisements.
Learn more