A Colorado woman faces first-degree murder charges in the death of her 5-year-old son.
Investigators say that Shannon Dodson, 42, allegedly drowned her son, Jude Murray Gomez, in a bathtub last Friday, then put him on a bed and set the mattress on fire. The child was found "wrapped in a [smoldering] blanket" and "between a bed and a wall" by firefighters responding to a blaze at Dodson's Colorado Springs home that day.
According to an arrest affidavit, a filled bathtub and a bottle of over-the-counter medication were found at the scene. An autopsy revealed that the boy had been drowned, not burned to death, the Colorado Springs Gazette reported.
When investigators interviewed Dodson in the hospital on Nov. 9, they asked her if she knew why they were there.
"Because I killed my son," Dodson responded, according to the affidavit.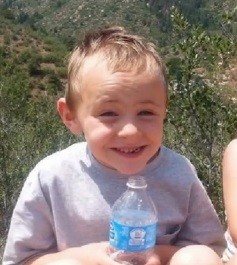 A motive in the killing has not yet been established, but Denver Westword notes that the child was at the center of a legal battle between Dodson and her husband, Jude Thaddeus Gomez, who had filed for custody of his son last year.
When investigators told the boy's family about the death, they said Dodson had threatened to kill her son and herself just four days before the incident. They said the woman later told them she wouldn't go through with it.
An aunt also told police that the boy did not like to bathe at Dodson's home because "she liked to dunk his head under the water."
"There was something about that little boy that was so special. He touched everyone's heart that ever met him even if it was just a few minutes. He was a joy to be with and loved everyone," it said. "He had a way of making the room brighten up when he walked in. He was so polite and was so kind and smart beyond toddler years."
Dodson was held without bond in El Paso County jail.
FOLLOW HUFFPOST