Your best friend is there for you when you need advice, a shoulder to cry on, someone to see a movie with... and some retail therapy. Here are 13 reasons your best friend also makes the BEST shopping partner.
She knows exactly what you like.
She makes you feel good about yourself when an outfit makes you feel fat and gross.
She's brutally honest...
... but also knows when to hold back.
She stops you from making dumb purchases.
She's patient when you're being ridiculous.
She'll mock ugly clothes with you.
She's totally cool with you getting naked in front of her.
She'll indulge your exceedingly long time spent in the dressing room.
She makes trying on clothes a thousand times more fun.
You can count on her to pay in a pinch.
She's always down for a coffee break.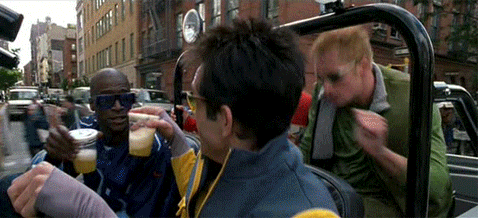 Three words: Dressing room selfies.
We bet these women would have been shopping partners:
Famous Female Friendships
While countless articles, films and documentaries have chronicled the lives of both America's most famous sex symbol and the Queen of Jazz respectively, most leave out an important detail: their friendship with each other. Marilyn, who idolized and was inspired by Ella, supported her friend in the face of racism, by helping her get her first gig at a prominent nightclub in 1955 by promising to sit in the front row of the audience every night for a week.

Marlo Thomas and Gloria Steinem met in 1967 when an agent pitched the idea of Marlo playing Gloria in a TV-movie. The movie never happened (and the agent turned out to be quite offensive), but the two activists have remained friends ever since. Says Marlo about Steinem, "We have been confidantes, soul mates and sisters."

Beyoncé and Kelly's friendship dates back to their days as two of the three members of Destiny's Child. Though both went their own way over a decade ago, the two have remained close friends. Despite recent reports to the contrary, Kelly insists, "I love my sister. [Beyoncé] is so incredibly supportive. [She is] one of the closest people to me."

Cruz and Hayek (who have been friends since early on in their careers) first worked together on the film "Bandidas." In fact, they almost died together when the plane taking them to the set nearly crashed in 2006. Their friendship was strong even then -- Penelope said about the experience, "A thought came across my mind that if I were to die at that moment, at least I'd die with my best friend."

These hilarious women met in 1993 at an improv class in Chicago and continued to work together throughout the years at the "Upright Citizens Brigade" and "SNL" (where the two co-hosted the segment "Weekend Update" from 2004-2006). They eventually collaborated on films such as "Mean Girls" and "Baby Mama." Amy has said about Tina, "She's...really, really funny and incredibly hard-working and a very supportive and loyal friend." Tina once quipped about Amy, "We're like Oprah and Gayle. Only we're not denying anything."

It seems that life imitates art for McCarthy and Bullock, who play a crime-fighting duo in this summer's much anticipated buddy comedy "The Heat." The film's director, Paul Feig, described the actresses as "inseparable…Normally after movies, those friendships go away. Theirs blossomed."

"Oprah and Gayle" are names that have practically become synonymous with "female friendship." Oprah has said of their friendship: "I wish every person on earth to experience somebody to care for them and to know them in such a way that they only want the best for you… When you become famous...a lot of people lose oxygen and they can't make the summit with you. [It's good] to be able to have somebody who not only can make the summit, but stand at the summit with you and rejoices in your being able to make it."

It just makes sense that these two women, who are arguably better at their respective jobs than most other humans ever, discovered they are kindred spirits. The photo of the two taking a selfie at the 2012 Kennedy Center Honors Gala dinner became an instant classic, and Meryl gave a heartfelt introduction for Hillary Clinton at the 2012 Women In The World Summit stating, "She has turned out to be the voice of her generation. I'm an actress, and she is the real deal."
Want more? Be sure to check out HuffPost Style on Twitter, Facebook, Tumblr, Pinterest and Instagram at @HuffPostStyle.