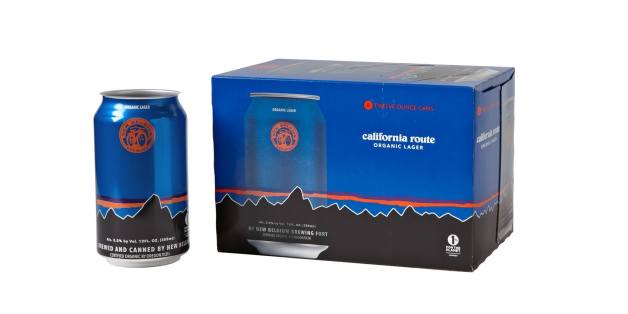 Outdoor clothing company Patagonia has teamed up with New Belgium Brewing for what will likely be a truly hoppy 40th anniversary.
The beer is of the "California Common" tradition which dates back to the late 1800s. These beers are generally tawny in color, medium bodied and with a malty character, according to Beer Advocate. California Route is 5.5 percent ABV and will be sold only in 12-ounce cans for a limited time.
Boasting California lager yeast with subtle fruity esters and a refreshing light lager finish, California Route organic lager is canned for adventure. The beer has an aromatic blast of citrusy Cascade hops and a heavy dose of noble hallertau. The addition of organic Munich specialty malt builds complexity with hints of freshly baked bread. Consistent with Patagonia's long-standing commitment to organics, the beer is brewed with certified organic ingredients.
So why New Belgium? Patagonia's Fletcher Chouinard told Forbes that the Colorado brewery was a natural fit. "Not only are they forward-thinking in their business and brewing practices, but their beers have been a go-to for our crew and customers around the country for a long time," Chouinard said. "They were great to work with and we couldn't be more stoked about the project!"
The beer will only be available in select markets in the U.S. including Boston, New York City, Chicago, Boulder, Denver, Seattle, Portland, Santa Monica, San Francisco, Palo Alto, Cardiff and Ventura, according to Hypebeast. If you are lucky enough to live in one of these markets, you'd better get some soon.
Also on HuffPost:
The Top 20 Selling American Craft Breweries
SUBSCRIBE AND FOLLOW
Get top stories and blog posts emailed to me each day. Newsletters may offer personalized content or advertisements.
Learn more