Armani Can't Tell The Difference Between Alfre Woodard And Idris Elba, Black Twitter Attacks, Obvi
So, last night the Armani team posted an Instagram photo of actress Alfre Woodard at the Governors Awards with a caption that read: "Idris Elba posing in a gorgeous Giorgio @armani dress at the 5th Annual Governors Awards."
Two words: EPIC FAIL.
PHOTO: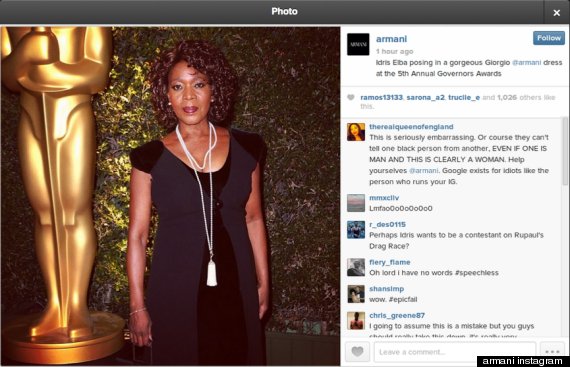 The Italian fashion house corrected the caption, but the damage was already done. Thanks to the magic of screen shots, once you put something out over the Internet, it will never die.
But how did this happen? It's bad enough to confuse one black actress with another black actress (see: Octavia Spencer being mistaken for Sherri Shepard), but when you start interchanging genders on top of race that's when things get really ugly.
And as expected that frustration was shared with the world when Black Twitter attacked with a barage of hilarious tweets in reaction to Armani's snafu. The memes hashtagged with #ArmaniCaptions, poked fun at the major mistake by dreaming up celebrity mixups (see tweets below). While we can't stop laughing at the creative tweets, racial tensions are running high these days and Armani's typo is just another reminder of how little things have changed. Oy!
Here are a few #ArmaniCaptions we found -- silly and sad, at the same damn time:
Aubrey "Drake" Graham wearing a beautiful Armani dress on the redcarpet tonight! Stunning. #armanicaptions pic.twitter.com/tJd7JlMmgn

— Golden Diva (@GoldenDiva1) November 19, 2013
Best Man Holiday nearly overtakes THOR as Race Themed Films Soar. #armanicaptions pic.twitter.com/eLWyiYFL1L

— DALAYYYY (@TheToast2013) November 19, 2013
Solange Knowles covers Vogue magazine in Armani menswear! A true beauty #ArmaniCaptions pic.twitter.com/UtuW3tSYOj

— Talisha (@charmful) November 19, 2013
2 Chainz on the red carpet at the American Music Awards #ArmaniCaptions pic.twitter.com/n6f1Bypj9H

— Dr.iDaywa (@iDaywa) November 19, 2013
Bow Wow in a vintage @armani tuxedo #ArmaniCaptions pic.twitter.com/UgXokwL9Ck

— #Baethoven (@ABC_1990) November 19, 2013
R&B princess Ciara killin' em in denim! #armanicaptions pic.twitter.com/FYZqw4VNox

— Cwean My Dishes Plz (@PattiLaHelle) November 19, 2013
Kendrick Lamar dressing all black for soul train awards #ArmaniCaptions pic.twitter.com/CtjlJUzMmo

— #Charles (@milesfan79) November 19, 2013
What do you think of Armani's Instagram fail? Tell us in the comments section below.
Also on HuffPost:
Instances of Accidental Racism