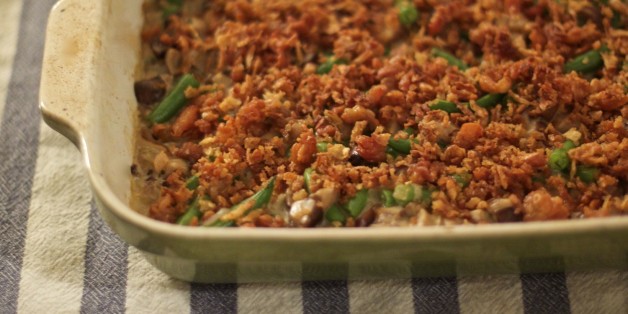 If you've let your eyes fall on the internet within the last month and a half, you have probably heard that Thanksgivukkah is coming. Thanksgiving comes crazy late in 2013, and Hanukkah starts ridiculously early, meaning that the first full day (and second night) of Hanukkah coincides with Thanksgiving Day. Thus, Thanksgivukkah was born, and we were handed a brand new holiday eating category to get weird with. Now listen, it would be way more exciting if the first night of Hanukkah fell on Thanksgiving. Jewish holidays start at sundown, and this year the first (and traditionally most observed) night is Wednesday, November 27. But, we're not going to be party poopers and say that you shouldn't combine the glory of Thanksgiving food with the majesty of Hanukkah food, so we cooked some hybrid dishes up anyway.
Thanksgiving and Hanukkah overlap more frequently than you'd think, but it hasn't happened in most of our lifetimes, and it probably won't again for a very, very long time. And in case we haven't already made this clear, that means it's go-time for the best Thanksgivukkah recipes you can muster. We put our heads together to come up with the perfect blend of these two iconic food holidays -- what we ended up with was both totally delicious and calorically advanced. Happy Thanksgivukkah!
Want to read more from HuffPost Taste? Follow us on Twitter, Facebook, Pinterest and Tumblr.
ALSO ON HUFFPOST:
PHOTO GALLERY
BEFORE YOU GO
Thanksgiving Recipes
PHOTO GALLERY
Thanksgiving Recipes