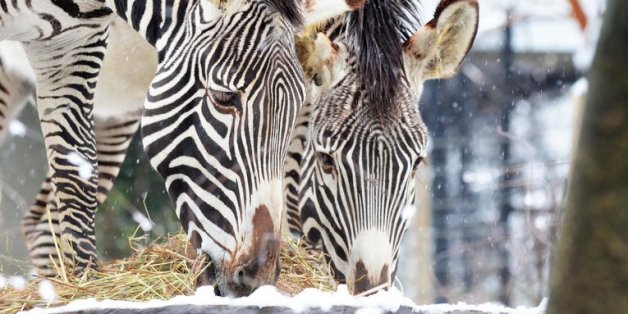 Let's hope your week started off better than this.
A rare gazelle named after a fitness guru died at the National Zoo on Monday. Zookeepers think the gazelle was fatally injured when he ran into a barrier, after being spooked when a zebra attacked a zookeeper in a nearby enclosure.
The unlikely series of events began around 8:45 a.m., the zoo said in a statement, when 10-year-old male zebra named Gumu bit a veteran keeper multiple times. The keeper, whose name was not released, was "definitely bleeding," but conscious and talking as he was taken to a local hospital for treatment, said Annalisa Meyer, a zoo spokeswoman.

Officials said the keeper was in an enclosure with Gumu and two other male zebras, Moyo and Domo, when Gumu started to bite him. Officials are trying to determine why the keeper was inside the enclosure with the animals, which is a violation of zoo procedures. The incident occurred out of public view.

About 11:15 a.m., a Dama gazelle named Tony was found dead inside his enclosure, next to where the zebras are located. Initial necropsy result indicate that the gazelle had fractured a vertebrae.
newest baby boy: a dama gazelle born Sept. 4 @ the National Zoo He'll be on exhibit later this fall pic.twitter.com/TSyDWyt4
"It's a terrible loss for us today," Baker-Masson said, according to the Washington Times. "We're very sad that our colleague was injured. We preach safety all the time. We have not had this kind of incident in all the years we've managed Grevy's zebras. Undeniably something happened this morning, but we don't know what."
SUBSCRIBE AND FOLLOW
Get top stories and blog posts emailed to me each day. Newsletters may offer personalized content or advertisements.
Learn more