Want to ruin a perfectly lovely night with your boyfriend or girlfriend? Try playing a board game with them.
It doesn't matter if it's Settlers of Catan or the Game of Life, if you ask your significant other to do battle with you over a board game, you are basically asking for trouble.
That's a life lesson illustrator Devin Le clearly gets. Take a look at the comic he recently shared on his website, According To Devin.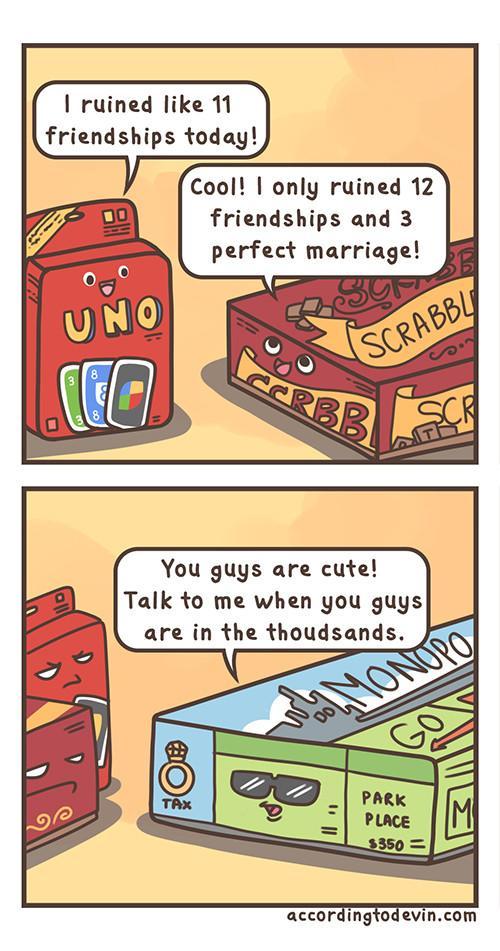 Damn you, Monopoly. Damn you to hell.
Keep in touch! Check out HuffPost Divorce on Facebook and Twitter.
Also on HuffPost:
Loading Slideshow
Jenga, The Movie

How would Nicolas Cage NOT be in that movie?

The Game Of Life, The Movie

She's the pink peg, he's the blue one... will they work it out?

Scrabble, The Movie

After all, Hollywood scripts are made up of words and letters anyway, so this is a natural fit.

Simon, The Movie

This is one of those multi-genre movies: there's action, romance, drama, and even some light-hearted comedy. You might say it has all the colors represented.

Connect Four, The Movie

Can these sisters get together? Let's hope so.

Operation, The Movie

Even Hasbro has its dark side.

Twister, The Movie

This one has already been made, but most people forget that it was based on the popular party game.

Also On Huffington Post

Rihanna describes what it was like to shoot her first film, Battleship.