We got our Thanksgivukkah menus all picked out (latke gratin, anyone?) and our decor and travel plans set. We've even got Thanksgivukkah pick-up lines and Thanksgivukkah sex tips. But our beauty routines? Those were in need of some Thanksgivukkah spirit.
Luckily there's this adorable Thanksgivukkah manicure to make our candle-filled, oil-soaked holiday a little more glam. MidrashManicures, a Jewish nail art company from New York-based Rabbi Yael Buechler, has combined a cute Thanksgiving manicure with its easy-to-use Hanukkah Nail Decals for the ultimate Thanksgivukkah beauty look. It's turkeys meets dreidels, Snoopy meets menorahs and pumpkins meets presents.
In a word, it's adorable. To DIY the mani, we recommend starting with a white background then getting creative with your Thanksgiving shapes -- we like fall leaves and cranberries, personally. Then apply the decals (you can get them for $11.99 at MidrashManicures.com) for instant cuteness.
We know how we're spending our lazy Thursday morning next week.
PHOTOS: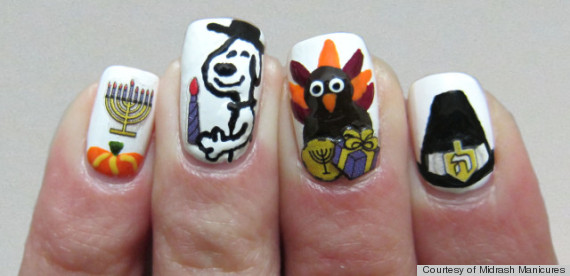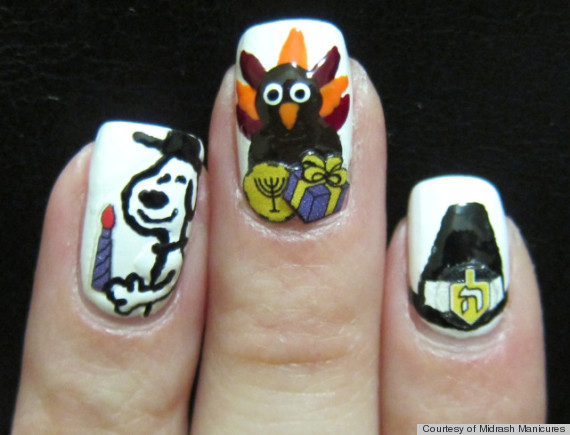 See more MidrashManicures:
Noah was chosen as righteous in his generation (He's the 1 percent of righteous people -- inspired by Occupy Wall Street), Noah builds the Ark, the animals enter the ark two by you. Noah sends out the raven to see if there is dry land in sight (mission unsuccessful). Noah sends out the dove on the same mission (mission successful -- the dove comes back with an olive branch of proof that there is land). God gives humanity a rainbow to promise that God will never wipe out humanity again through a flood.

Day 1 (light), Day 2 (skies and waters), Day 3 (earth and sea), Day 4 (sun, moon, and stars), Day 5 (fish and birds), Day 6 (animals and humans), Day 7 (Shabbat -- God's day of rest)

Lulav/Etrog for the holiday of Sukkot - It is traditional to shake a Lulav (palm branch) that contains myrtle and willows, as well as an Etrog, a yellow citron. The palm branch itself represents the human spine, the myrtle represents the eye, the willow represents the mouth, and the citron represents the heart. By bringing all of the different aspects of the human body together, we symbolically praise God with our full selves. (From left to right: myrtle, citron, palm, willow)

Inspired by the Torah portion Ki Tavo. A city skyline, based on the verse, "Blessed shall you be in the city and blessed shall you be in the country" (Deuteronomy 28:3). Field landscapes based on the verse: "Blessed shall you be in the city and blessed shall you be in the country" (Deuteronomy 28:3).

This manicure depicts one of the most famous Midrashes on the Book of Genesis: Abraham smashing his father's idols. The Torah does not explicitly say why Abraham was chosen to be the father of the Jewish people. The rabbis wrote this Midrash to highlight how as a child, Abraham believed in only one God, which is why he trashed his father's idol shop when his father went away on a trip. While it is not stated in the Torah, the Midrash postulates that Abraham's father passed him on to an idolatrous king who told Abraham to jump into a pit of fire and if Abraham believed in "his god" that maybe that God would save him. Abraham survived the pit of fire, and it is because of his strong beliefs in one God that God chose Abraham to leave his homeland and go to the land that God would show him.

Inspired by the Torah portion Re'eh, which contains a list of "clean" and "unclean" animals which became the basis for practices of keeping kosher today. The left hand has kosher animals and the right hand has non-kosher animals. (From left to right: goat, cow, fish (with fins and scales), ibex, camel, rabbit, pig, owl, pelican)

From left to right: Cattle Disease, Death of the First Born, Wild Animals, Darkness, Lice, Locusts, Frogs, Hail, Blood, Boils.

This hand depicts popular symbols for Rosh Hashanah, the Jewish New Year, from apples that are traditionally dipped in honey (to mark a sweet new year), to the Shofar (a ram's horn that is used to awaken us to work on our actions for the year ahead), and the a pomegranate (which contains what the rabbis believed to be 613 seeds, to represent the good deeds, known as mitzvot, that we hope to perform in the year head).

The holidays of Shemini Atezret and Simchat Torah are opportunities to celebrate the gift of God's Torah, as well as God's love and support for us, as we transition back to our typical routines. (From left to right: Torah scroll, Chuppah for Chatan/Kallat Bereshit, Torah cover, First Letter of the Torah.)

This hand depicts symbols to represent Yom Kippur. We ask God on Yom Kippur to inscribe us in the "Book of Life," we fast on Yom Kippur (so there is no food permitted), Yom Kippur is a Day of Judgment, represented by scales, and Yom Kippur is a day of spiritual cleansing (hence the cleaning supplies).
Want more? Be sure to check out HuffPost Style on Twitter, Facebook, Tumblr, Pinterest and Instagram at @HuffPostStyle.