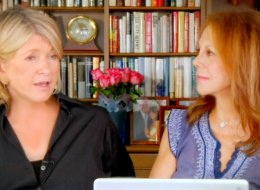 How does Martha Stewart overcome tough times? Martha says that two especially tough times in her own life were her divorce, and the legal problem which resulted in a five month prison sentence. Martha overcame those hard times because of her inner strength.
"I'm a strong person, and I had supportive family who did not give up on me," says Martha. Both of Martha's parents were instrumental figures in Martha's life. With six children, they were very resilient, active and curious people until they passed.
According to Martha, personal resilience is extremely important. "I think you should try to develop this," Martha says, "You should know who you are, and also practice a little abstinence here and there."
Get your copy of Martha's latest book: Living The Good Long Life: A Practical Guide To Caring For Yourself And Others
See the slideshow below for special moments throughout Martha's life and career:
A photo from Martha Stewart's early modeling days in the 1960's -- she looks stunning!

Martha Stewart's early career – here she is posing with lettuce from her garden for a photoshoot.

A young Martha Stewart – already interested in gardening!

When Martha's father told her that she could do anything that she put her mind to, Martha headed to New York to pursue modeling.

CEO, entrepreneur, author, activist and television personality, Martha Stewart has re-defined the category of lifestyle throughout her long career. Here, she poses during a press tour for her "Martha Stewart's Cooking School" in Beverly Hills, CA.

Over the years, Martha has made numerous television appearances on programs like The Tonight Show with Jay Leno, The Oprah Winfrey Show and Larry King Live. Her live how-to segments on crafts, cooking and gardening have made her a popular household name.

Each Halloween, Martha appears on the cover of her magazine in a new costume designed by her trusty Craft Department. This cover shot, taken in 2011, depicts Martha as "Motha, The Winged Wonder," a concept she absolutely loved.

Martha published her first book on home entertainment in the early 1980s and has since authored a wide range of newspaper columns, magazine articles, cookbooks and other pieces under the homemaking and lifestyle category. Here, she signs a copy of a recent pastry cookbook for a fan.

From 2005 to 2012, Martha hosted her own how-to homemaking show, aptly named The Martha Stewart Show. Here, Martha poses on set with members of her production team in April 2011.

Martha currently hosts a segment on Sirius XM Radio where she provides tips on homemaking, cooking, gardening, crafts and other lifestyle topics. Here, Martha records a segment for her interview series, At Martha's Table, in 2009.

Martha Stewart and daughter Alexis enjoy a round of drinks during their night on the town.

Martha has supported young, aspiring female entrepreneurs through many campaigns and organizations over the years. Here, she delivers a speech at the Entrepreneurial Woman's Conference in Spring 2012.

Martha Stewart with her mother, Big Martha, celebrating her birthday on The Martha Stewart Show.

As a frequent television personality, Martha has formed close-knit friendships and bonds with numerous celebrities over the years. Here, legendary actress and comedienne Carol Burnett teaches Martha her famous Tarzan yell on a March 2008 episode of The Today Show.

Martha Stewart was featured as a prominent business tycoon alongside Donald Trump on the hit show, The Apprentice, in 2005.

Martha Stewart and her two-year-old granddaughter, Jude, enjoy a lunch date together in New York City.

The Hub, a kids/family programming television network, invited Martha Stewart to appear as an expert celebrity judge during the network's first nationwide costume competition which aired on October 26, 2013. In true Halloween spirit, Martha dressed up as a glammed up "Fairy GrandMartha."

Martha's daughter, Alexis, and granddaughter Jude spent Mother's Day picking flowers on Martha's farm.

Martha's grandson, Truman, sits behind the steering wheel of Martha's Kawasaki.

Don't let the bob fool you! Always on top of pop culture, here Martha and rap artist Busta Rhymes present an award during the 1997 MTV Video Music Awards.

Martha is an active and generous donor to many charitable and humanitarian causes. Here, Martha wraps holiday gifts to benefit women in need at a Kmart event in New York in December 2007.

On the Martha Stewart Living Radio Show, Martha has interviewed countless famous chefs, authors and television personalities. Here, she poses with chef and TV personality Anthony Bourdain (left) and chef Eric Rippert in February 2009.

Another cause near and dear to Martha's heart is animal rights. Here, Martha and pet pug attend the 12th Annual ASPCA Bergh Ball in 2009.

Throughout her career, Martha has launched numerous successful magazine enterprises. Here, Martha Stewart accepts an award for General Excellence in the Lifestyle category for her magazine, Martha Stewart Weddings, in 2005.

A follower of fashion designers including Zac Posen and Ralph Rucci, Martha can often be spotted in the front row of various shows during New York Fashion Week. Here, she sits front and center to check out the Chado Ralph Rucci fall 2007 collection in New York.
Add Marlo On Facebook:
Follow Marlo on Twitter:

Weekly Newsletter

Sign up to receive my email newsletter each week - It will keep you up-to-date on upcoming articles, Mondays with Marlo guests, videos, and more!

Sign up here