When it comes to convincing smokers to quit, warning of health dangers is commonplace... but appealing to smokers' vanity might be equally effective. So what exactly are the cosmetic claims against cigarette smoke?
We spoke to Dr. Milton Moore, a Houston-based dermatologist, and dermatologist Dr. Dina Yaghmai, Co-Director of the Physicians Laser and Dermatology Institute in Chicago, to find out just what this addictive habit is doing to our skin. Spoiler alert: The answer's just as bad as you thought.
Yes, cigarettes do cause your skin to age faster...
When you take a puff of a cigarette, you may feel a sense of calm relief. But that action has the opposite effect on your blood vessels, which immediately become thinner and spasm. This reduces circulation and decreases the oxygen level in your blood. "Anything that decreases the oxygen in your blood is going to affect your skin as well," says Dr. Moore.
This decrease of oxygen and circulation causes -- you guessed it -- premature aging and wrinkles, which are particularly pronounced around the mouth. The constant act of pursing your lips when you smoke exacerbates what Dr. Yaghmai calls "cigarette lines" -- lines that extend from the mouth -- so called because they're a dead giveaway that someone's a smoker. She also says that, with this reduced circulation, you can expect poor wound healing, one of the most obvious short-term side effects of smoking.
Another direct result of smoking is the release of free radicals in the body, which impair collagen production and break down proteins that maintain the skin. "A majority of our anti-aging products are designed to help remove these free radicals," says Dr. Yaghmai. The natural aging process involves the formation of free radicals and oxidative damage to the cells, she says, adding, "By smoking, you're releasing higher levels of free radicals in your body that are further increasing the oxidative damage to cells and accelerating the aging process of the skin."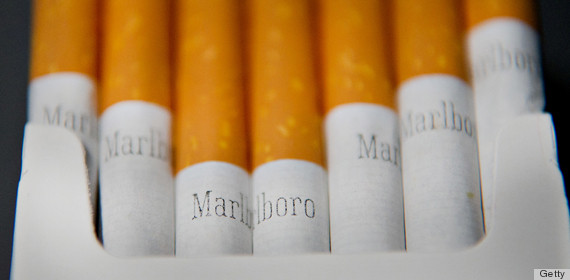 ...and smoking can dull your "healthy glow."
Smoking decreases the production of red blood cells, says Dr. Moore, adding, "When you have decreased red blood cells, it's like when you have anemia and you become paler, which in some skin tones can appear grayish." The actual smoke also affects the texture, smoothness and glow of your skin, especially in the upper lip and chin area where those "cigarette lines" appear.
"The skin really has this lack of glow, lack of softness that you see in a healthy non-smoker," adds Dr. Yaghmai. This manifests as rougher skin texture and an overall unevenness to the pigmentation, she says.
You'd have to undergo some major dermatological procedures to even begin to reverse smoking's effects.
If you think water, vitamins and some topical creams will fix the harm caused by cigarettes, think again. "Once that damage is visible, there's no quick fix," Dr. Yaghmai says. While both Dr. Yaghmai and Dr. Moore recommend a complete skin regimen of cleansing, moisturizing and hydrating with water for all patients, you'll need to make some investments in your skincare if you want to reverse the effects of smoking.
Simple, more economical procedures like microdermabrasion, Botox injections or light chemical peels are helpful, but Dr. Yaghmai advocates laser treatments, which can be pretty pricey, to remove the top layers of dead skin and improve collagen production.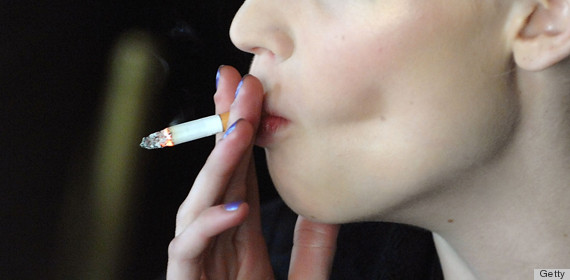 But there are also small tweaks smokers can make to reduce the damage.
While you can't reverse the effects of smoking without the help of a good dermatologist, you can minimize the damage made by making some lifestyle adjustments. Avoiding alcohol and sun exposure as well as staying active can help maintain better circulation and keep your skin appearing healthier.
"People that are more active are going to do better with smoking and have less side effects than someone who's more sedentary who's a smoker," says Dr. Moore.
So can your skin bounce back if you quit?
"There's some damage that really can't be undone," says Dr. Moore. The longer you smoke, the longer it takes for your skin to recover and the more profound the damage, he says. Once you quit smoking, it takes about 20 to 30 days for your red blood cell count to increase. After that, you can start seeing a difference in the quality and texture of your skin. But don't expect those wrinkles and fine lines to ever go away naturally.
"If you make the decision to stop, you are doing something great for your skin and you will see improvements," says Dr. Yaghmai, "but reversing the damage that was already caused will require intervention."
Your skin isn't the only organ affected by smoking:
12 Ways To Keep Your Lungs Strong And Healthy
Smoking is, hands down, the worst thing you can do to your lungs on a regular basis. There's no safe threshold when it comes to smoking, Dr. Edelman says; the more you smoke, the greater your risk of lung cancer and COPD, which includes emphysema and chronic bronchitis. Secondhand smoke is harmful, too, and there's mounting evidence that even thirdhand smoke -- or just being in an environment where people have smoked -- is dangerous. It's not enough to skip only cigarettes. Pipes, cigars, or marijuana can harm lungs too. More from Health.com: 10 Myths and Facts About COPD 3 Ways to Manage COPD The Worst Jobs for Your Lungs

While U.S. air is cleaner than in the past, more than 154 million Americans still live in areas where air pollution is a threat to health, according to the ALA's annual State of the Air report. "Air pollution can not only make diseases like COPD and asthma worse, [but] it can also kill people," Dr. Edelman says. You can make a difference by supporting clean air laws and opposing efforts to cut regulation. On the individual level, cut your electricity use, drive less and avoid burning wood or trash.

Exercise in itself won't make your lungs stronger, Dr. Edelman says, but it will help you get more out of them. The better your cardiorespiratory fitness, the easier it is for your lungs to keep your heart and muscles supplied with oxygen. Regular exercise is particularly important if you have chronic lung disease; your lungs need all the help they can get. If cold air triggers your asthma symptoms, use a scarf or face mask to warm the air before it hits your lungs.

In some areas, especially in the summer, ozone and other pollutants can make working out or even spending time outdoors an unhealthy proposition. People with a lung disease are particularly sensitive to air pollution. The U.S. government's AIRNow web site, provides up-to-date information on air quality, as well as an explanation of Air Quality Index (AQI) numbers. Sign up for EnviroFlash, email alerts on your local air quality.

Air pollution isn't just an outdoor problem. There are a number of indoor sources, including fireplaces and wood-burning stoves, mold, pet dander, construction materials and even air fresheners and some candles. The Environmental Protection Agency recommends a three-pronged approach: Eliminate sources, improve ventilation and use air cleaners. Air cleaners remove particulate matter, but won't impact gases. For more info, check the EPA's Indoor Air Quality website.

There is evidence that antioxidant-rich foods are good for your lungs. (Research suggests it has to be food, not supplements.) A 2010 study found that people who consumed the most cruciferous vegetables (broccoli, cauliflower, cabbage, bok choy, kale and more) had almost half the risk of lung cancer compared to those who consumed the least. "All those nice, leafy green vegetables that have lots of antioxidants do seem to have a protective effect," says Dr. Edelman

Many jobs can put your lungs at risk, from construction work to styling hair. (Here are some of the worst jobs for your lungs.) In fact, occupational asthma accounts for approximately 15 percent of cases, says Dr. Edelman. Potential culprits include dust; particles; diacetyl, a chemical that adds a buttery flavor to food; paint fumes; and diesel exhaust, among others. If your employer provides protective equipment, wear it. If not, Dr. Edelman says, contact your union representative, the Occupational Safety and Health Administration, or any state or local agency with the same function as OSHA.

Respiratory infections can be particularly devastating if you have COPD or other lung problems. Get the flu shot in time for flu season, and if you're 65 or older, get the pneumococcal vaccine too. Also, take steps to avoid infection: Wash your hands frequently, avoid crowds during peak flu season, get plenty of rest, eat well and keep your stress levels under control, too.

Many at-home activities -- cleaning, hobbies, home improvement -- can expose your lungs to harmful particles or gases. Protect yourself by choosing safer products, working in a well-ventilated area, and using a dust mask. (The ALA offers tips for working with fiberglass.) Avoid oil-based paints, which release volatile organic compounds (VOCs), and choose water-based paint instead. Cleaning products can contain harmful chemicals too, like VOCs, ammonia, and bleach; read labels before you buy. (The ALA provides suggestions for safer cleaning products.)

Radon is a naturally occurring radioactive gas produced by the breakdown of uranium in the ground. It typically leaks into a house through cracks in the foundation and walls. Radon is the main cause of lung cancer in nonsmokers, and the second-leading cause of the disease after smoking. Get your home tested; if radon levels are between 2 and 4 pCi/L, consider radon reduction. There are no known safe levels of radon, so the lower, the better.

If you have a cough for more than a month, or if you have a hard time breathing with little or no physical exertion, you should see a doctor, according to the ALA. Wheezing, coughing up blood or coughing up phlegm for more than a month are also problematic, and if you have chest pain lasting a month or longer, get it checked out, particularly if breathing in or coughing makes it worse.

If you've got asthma or COPD, do your best to keep it under control. Preventive medications, such as inhaled corticosteroids, can cut your risk of asthma attacks, and rescue medications, such as albuterol inhalers, can stop symptoms like coughing or wheezing. Other medications can control COPD. Know your triggers and avoid them, if possible. Also do your best to stave off respiratory infections, which can exacerbate both conditions. More from Health.com: 10 Myths and Facts About COPD 3 Ways to Manage COPD The Worst Jobs for Your Lungs
Want more? Be sure to check out HuffPost Style on Twitter, Facebook, Tumblr, Pinterest and Instagram at @HuffPostStyle.