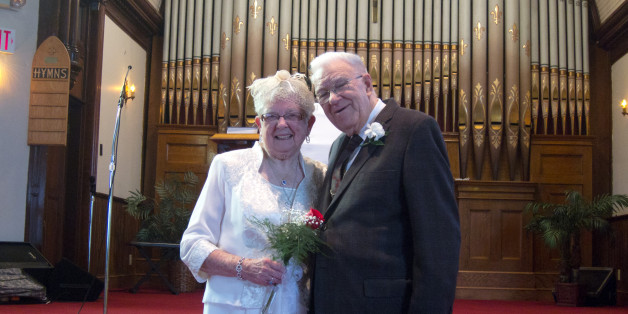 George Raynes and Carol Harris shared an unforgettable first kiss when they were both 8 years old.
Seventy-five years later, they tied the knot at the Lancaster Baptist Church in their hometown of Saint John, New Brunswick, Canada.
The couple first met in their first grade class in 1936. In third grade, their school put on a production of "Sleeping Beauty."
Raynes' teacher told him that he didn't have to kiss Harris if he didn't want to, but he said he wanted to.
In 1948, his family moved to Ontario, and he went on to marry someone else and start a family of his own.
Harris, on the other hand, stayed in Saint John and became a teacher. Although she had many boyfriends, she never married.
"While other friends accepted being single, I never did," Harris told Yahoo Shine.
The pair would occasionally exchange phone calls and get together for lunch whenever Raynes was back in town.
Months after Raynes' wife of 61 years died from ovarian cancer, he drove to Saint John for a "last look around," and Harris accompanied him.
A couple of months later, Raynes proposed to Harris on the deck of a romantic restaurant in Ontario.
"He suggested that we had had a great time and we had always been good friends," Harris told CBC News. "Why don't we spend the rest of our lives together?"
Harris describes the proposal as an offer she couldn't refuse.
"I can't help but think that my prince from Grade 3 has finally come home to stay," she said, "and I think it's just marvelous."
"For anyone who wants to get married, don't give up," Harris added. "It's such fun to have someone to go hand-in-hand with and to drop into bed with."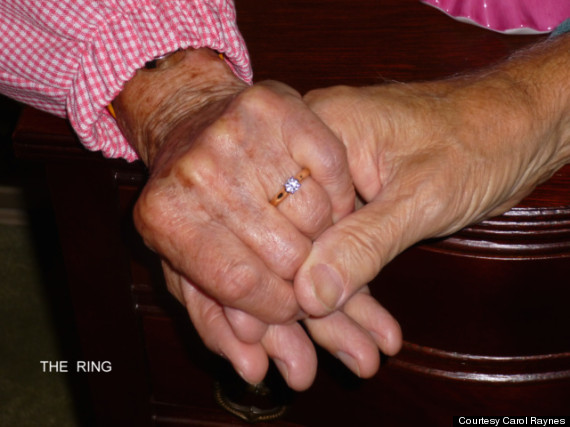 Also on HuffPost:
Teenage Sweethearts Reunite And Marry In Their 70s
SUBSCRIBE AND FOLLOW
Get top stories and blog posts emailed to me each day. Newsletters may offer personalized content or advertisements.
Learn more