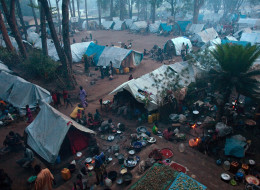 UNITED NATIONS (AP) — A U.N. peacekeeping operation will be needed in the Central African Republic, which is descending into "complete chaos" that may lead to religious and ethnic conflict with "mass atrocities" and even civil war, the U.N. deputy secretary-general said Monday.
Jan Eliasson urged the Security Council and the international community to take decisive action to support the African Union-led peace operation in one of the world's poorest countries and prepare for its transformation into a U.N. peacekeeping operation.
Eliasson said the desperate security situation and "virtual meltdown" in the Central African Republic require a multi-faceted response to address the root causes and protect civilians who are "enduring suffering beyond imagination" including sexual violence, extortion, arbitrary arrests, torture, summary executions and never-before-seen sectarian violence between Muslims and Christians.
With a long history of chaos and coups, Central African Republic has been in turmoil since a coalition of rebel groups joined forces to overthrow the president in March and put their leader in charge.
Since seizing power, the rebels have plunged the country into a state of near-anarchy. They have been accused by human rights groups of committing scores of atrocities, including killings, rapes and conscription of child soldiers.
Eliasson said virtually the entire population — 4.6 million people — has been affected, and a third of the people are "in dire need of food, protection, health care, water, sanitation and shelter."
Last week, Secretary-General Ban Ki-moon presented four options to the council to support the AU-led operation financially and logistically and a fifth option to transform it into a U.N. peacekeeping operation. Ban said he backed a U.N. force with 6,000 troops, 1,700 police officers and possibly another 3,000 U.N. soldiers if the crisis degenerates.
In his briefing to the council, Eliasson made clear that the situation in the Central African Republic, or CAR, has deteriorated so quickly — with the country becoming "a breeding ground for extremists and armed groups" — that there really is only one choice.
"We believe that a United Nations peacekeeping operation will be needed in the CAR," Eliasson said.
The transfer of the AU-led force known as MISCA into a U.N. operation will "require some lead time for necessary preparations," he said. "We therefore urge the international community to now support MISCA in as comprehensive and predictable manner as possible, but also begin considering the option of a United Nations peacekeeping operation."
France, which has been asked by CAR to increase its small force in the country, will draft a Security Council resolution to respond to the secretary-general's report.
France's U.N. Ambassador Gerard Araud said it will call for support for the AU-led force, which now has about 3,000 troops, and support for elections by February 2015. He said it also will ask the secretary-general for a report on possibly transforming the AU force into a U.N. peacekeeping force.