Aubrey Plaza Demonstrates How To Wear Pastels In Winter In Glow Magazine (PHOTO)
The Aubrey Plaza we know is deadpan, sardonic and loves her some plaid shirts.
But turns out that off the set of "Parks & Recreation," Aubrey Plaza can pull of girly, pink outfits with the best of the cover girls. Plaza poses for the Winter 2014 issue of Glow, a beauty mag from Canada, wearing a pretty knit dress from Blumarine.
Photographed by Chris Nicholls, Plaza sports plenty of delicate pastels that remind us we can wear light clothes in the winter. But best of all is her makeup, which is sultry yet subtle in a Twiggy-esque way. If only April Ludgate served up this kind of makeup every week.
Of course, in true April fashion, Plaza tells Glow, "I mean, every day my whole face is a beauty disaster!" We don't buy it.
See the rest of the photos at Glow and check out the lovely cover below. How gorg is funny gal Aubrey?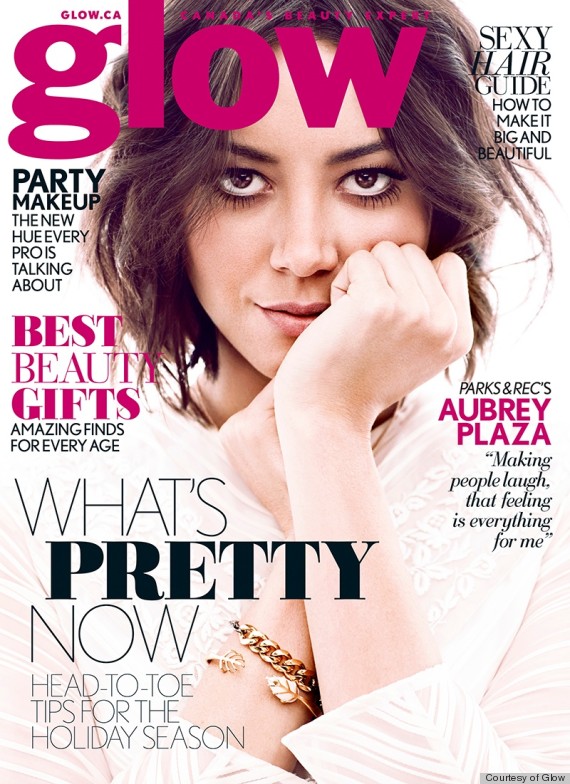 More Aubrey to love:
Aubrey Plaza - 7 Things You Didn't Know About Her
While Plaza is always outspoken and proud about her Puerto Rican roots and tries to spend every summer in the islands with her family, she's unfortunately lacking in the Spanish-language department. "I wish I was fluent," Plaza told the NY Daily News. "My grandfather came over from Puerto Rico and raised his kids speaking English so that it would be easier for them to assimilate." "My family speaks to me in Spanish," she adds, "and I respond in English."

While Plaza is 28 years-old, she's still believable in her role as April the sarcastic assitant with the deadpan delivery in "Parks & Recreation." So where does she get that younger inspiration from? A lot of it comes from her younger sister. "One time I heard her call someone 'schwasty,' and I was like, 'Natalie, what does that mean?' And she was like, 'You know, schwasty.' And I was like, 'No, I don't know.' But I'm gonna use it," Plaza told Latina Magazine.

While it's mostly brilliant acting and great jokes for Plaza, the actress went through a big health scare back when she was still a student at NYU. During one of her improv comedy classes Plaza suffered a stroke. "My two friends that were with me at the room at the time thought I was doing a bit with them. And they kept saying 'stop it,' like they thought I was joking or something," she told NPR. The stroke was caused by a clot in left temporal lobe of her brain. Plaza says she's completely recovered.

Aubrey Plaza was named after a 1970s song, "Aubrey," by the band Bread. Her mother, who had Aubrey when she was 20 years-old, chose the actress' cool name.

In her latest movie "Safety Not Guaranteed" Plaza plays Darius, an intern at a Seattle magazine who goes down to track a story with her colleagues based on newspaper classified ad by a person asking for someone to accompany him in time travel. Darius quickly learns that the ad's writer is a possibly insane but sweet grocery store worker. She pretends to believe he can actually go back in time in order to get the story. Writer Derek Connolly, wrote the script with Plaza in mind for the role of Darius. "I was very flattered," she told Huffington Post about the role being written with her in mind, "Honestly, I didn't think I was even at a place in my career where someone would do that for me. I was just hoping that it was good."

Apparently some of that April nonchalant attitude is not just acting. Every-ladies-dream-man Ryan Gosling has tried to approach Plaza twice and her response both times? Ignore. The first time was at a Jamba Juice, when the actor approached Plaza with the suave line "Hey Girl" . Plaza says she didn't recognize the actor, grabbed her drink and walked away. In a second attempt, Gosling got turned down after he invited Plaza to a magic show. The girl is apparently quite hard to get!

At the age of 13, Plaza's first boyfriend asked her out through song as he sang on stage in a room full of people. The kid? Johnny Gallagher, Jr., who won a Tony for Spring Awakening. Good thing Plaza has a casette with a song that he wrote for her called "When We Get Married" as proof of their teenage love story.
Want more? Be sure to check out HuffPost Style on Twitter, Facebook, Tumblr, Pinterest and Instagram at @HuffPostStyle.