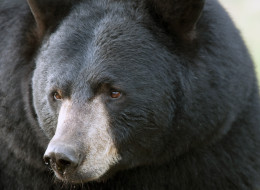 Happy Bear-thday!
A Florida toddler's birthday became 800 times more paw-some Saturday when a black bear crashed the party.
The Orlando party was going for about 30 minutes before the bear burst in through a fence. The adults in attendance say they made sure the kids didn't get near the animal "because they don't' know about the dangers with the bears," Yvette Picasso told WKMG 6.
Florida Fish and Wildlife officers shot the 200-pound bear with a tranquilizer and took it away in a pickup truck for relocation, according to WCSC.
Bears just want to have fun. Last month, a bear broke into a Russian home and ate some borscht before scampering off into the woods.
And last year, a beer-craving bear family of four ripped off the wall of a cabin in Norway, then chugged 100 cans of beer.