Talk about festive! Gwen Stefani rocked a gorgeous, bright red dress to her parents' house in L.A. yesterday (Nov. 28) for Thanksgiving dinner. Stefani, who is roughly six months pregnant with her third child, was joined by her husband, rocker Gavin Rossdale, her two children Kingston and Zuma and the family's adorable pup.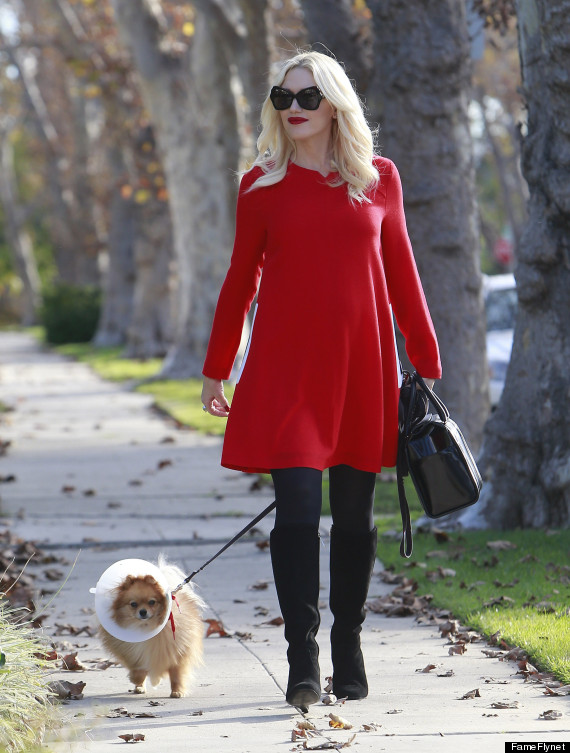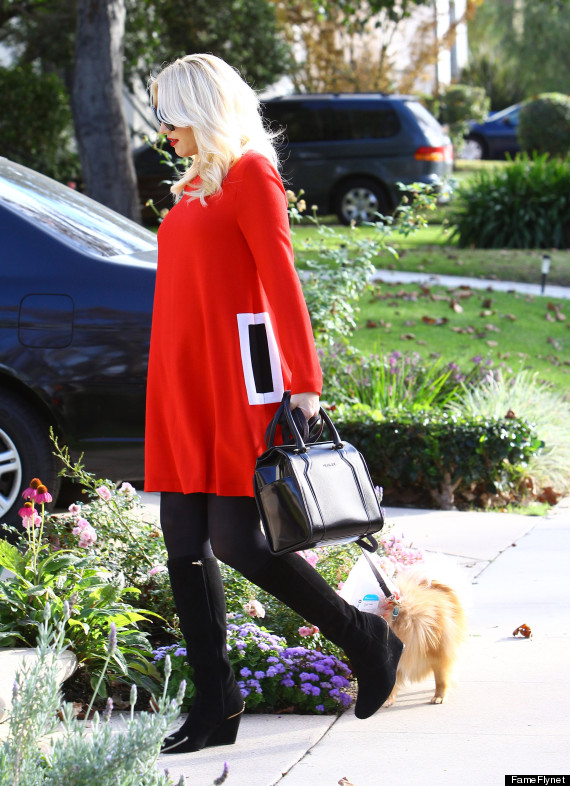 The singer, who's no stranger to the spotlight, turned the camera on the slew of photographers that waited outside her folks' house and captioned:
Happy thanksgiving wow never though that arriving at my parents house would be so glamorous = weird gx pic.twitter.com/UHf691A3d1

— Gwen Stefani (@gwenstefani) November 28, 2013
Also on HuffPost:
Loading Slideshow
Jennifer Aniston and Ed Sheeran

"#happythanksgiving #jenniferaniston @aleenkeshishian #edsheeran"

Patrick Stewart and Ian McKellen

"Thanksgiving! #gogodididonyc @TwoPlaysInRep"

Kim Kardashian and Kanye West

"Being away from home for the holidays is hard but I'm so thankful for family & friends like this! I love you guys! @lorenridinger @larsapippen @scottiepippen @jonathancheban @amberridinger"

Mariah Carey

"Family prepping time! #pecanpie #thanksgiving @nickcannon"

Kendall Jenner

"yesss #ThanksgivingDinner"

Julianne Hough

"Sliblings and our homemade turkey aprons!! Love my sissy's and my bro... @shareewise we miss you and need you here!! #hough #family #thanksgiving"

Ashton Kutcher

"Khaleesi gave birth to the dragon babies and now the Dragon has give birth to Khaleesi! "

Ireland Baldwin

"Thanksgiving celfié with @slatertrout"

Lena Dunham

"papagram"

Heidi Klum

"Happy Thanksgiving everyone :)"

Leann Rimes

"Thanksgiving wishes from our blended family to yours. So much love and peace"

Josh Duhamel

"Lots to be thankful for. Have a great 'my pants don't fit' day!! "

Neil Patrick Harris

"Having a most relaxing Thanksgiving with the family. So grateful."

Neil Patrick Harris

"When @DavidBurtka makes crudités, he makes CRUDITÉS! #firstcourse #grateful"

Maria Menounos

"Happy thanksgiving everyone! Mom and I are busy cookin! Have a blessed day everyone!"

Gwen Stefani

"Happy thanksgiving wow never though that arriving at my parents house would be so glamorous = weird gx"

Sofia Vergara

"Manolo's work is ready!!! thank you god for this turkey, for this son ,for this lifehappy thanks giving!!!!"

Chrissy Teigen

"mom, my sister and I! happy thanksgiving, everybody!! Thankful for you all, really."

John Legend

"Happy Thanksgiving!! Time for granny and I (mostly her) to clean some greens!!"

Oprah

"Almost ready! #happythanksgiving"

Emmy Rossum

"Found the Turkey hat!!! Crisis averted!"

Sarah Hyland

Very thankful to have these two in my life. My boys are my everything. @mattpro13 & Barkley

Lance Bass

"The living room has now transformed into the dining room! So excited for #Thanksgivukkah 2013!"

Kaley Cuoco

"Thanksgiving travels w my partner in crime @ryansweething"

Martha Stewart

"Almost done! Smells so good!"

Mindy Kaling

"Tandoori turkey, keema curry, chapati, eggplant, South Indian coconut green beans, eggplant, salad, rice, sweet potato streusel #oahu #indianThanksgiving #aloha"

Katie Holmes

"I'm stuffed! #happythanksgiving"

Rebel Wilson

Happy Thanksgiving!! @katejenko @hardcastleAndCo @lauren_ash @IAMKEVBISH @greavesemily x

Busy Philipps

7:30AM and I already set the table. Ummm. I'm a little excited. THANKSGIVING!