There's a reason we've previously declared Marion Cotillard the best-dressed woman in France. It's not just her enviable Dior wardrobe or the ease with which she wears couture. No, Marion also has a clever style signature that makes her our favorite red carpet star: pockets.
The French actress showed off her trademark look at the Marrakech International Film Festival on Saturday, wearing a cheery striped dress from Christian Dior's Spring 2014 collection. The bright colors and racerback cut made the dress feel fresh and modern.
But it was the pockets, perfect for posing but also handy for storing things, that won our hearts. What's better than a fancy dress that actually serves a purpose for the wearer rather than hindering her? (This writer will readily admit that the highlight of her entire senior prom was the pockets on her prom dress.)
Cotillard, of course, has long realized the outfit-perfecting feature that are pockets. She's been spotted on several red carpets with her hands tucked away, proving that to be impossibly stylish, one doesn't have to give up function.
What do you think of her stripey Dior look from last night?
PHOTOS: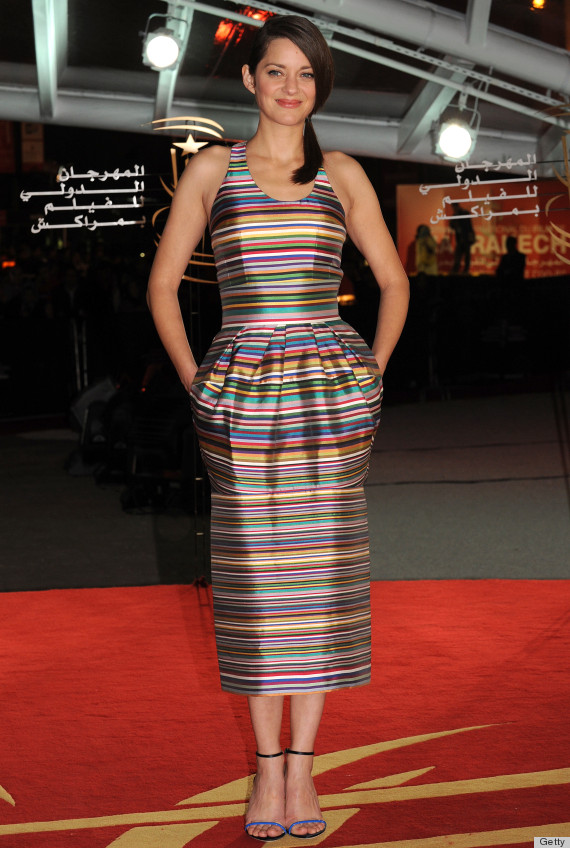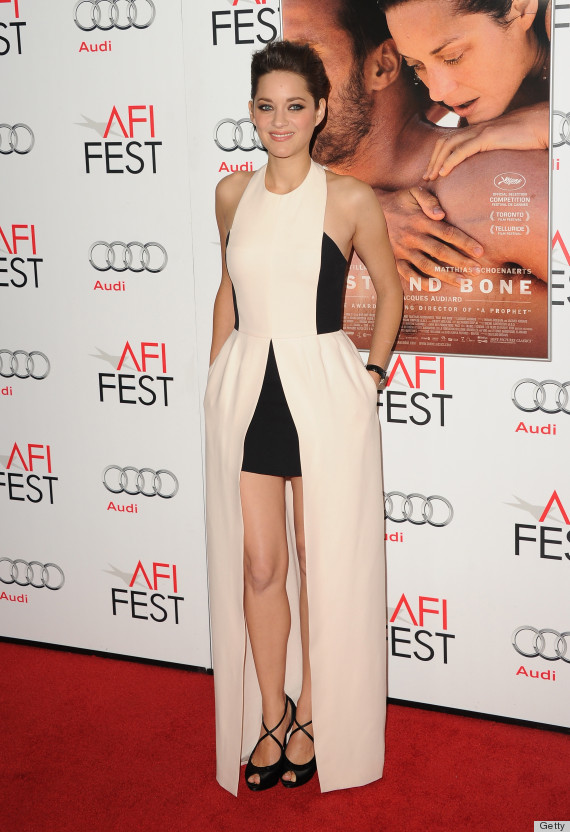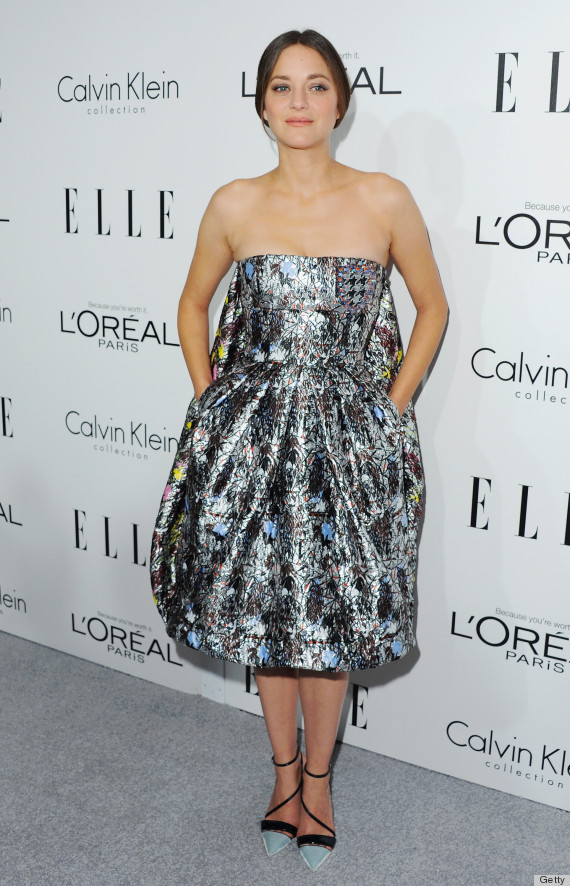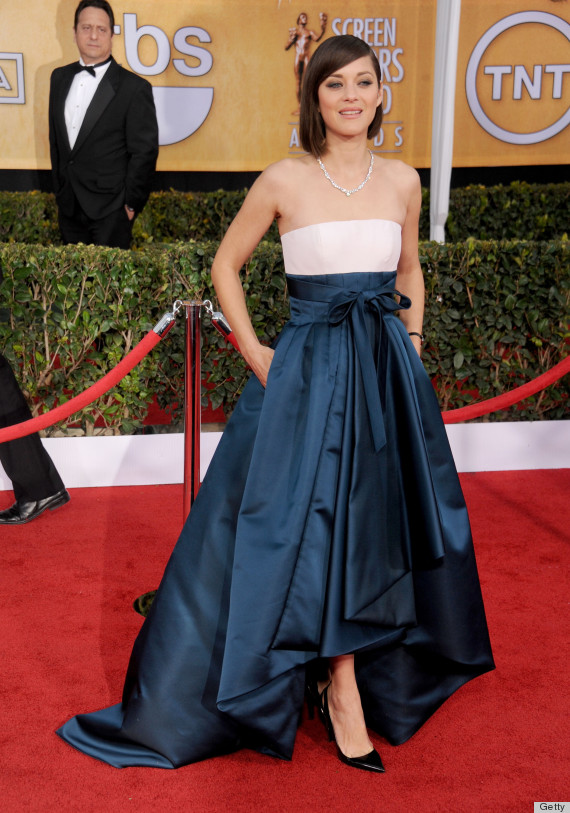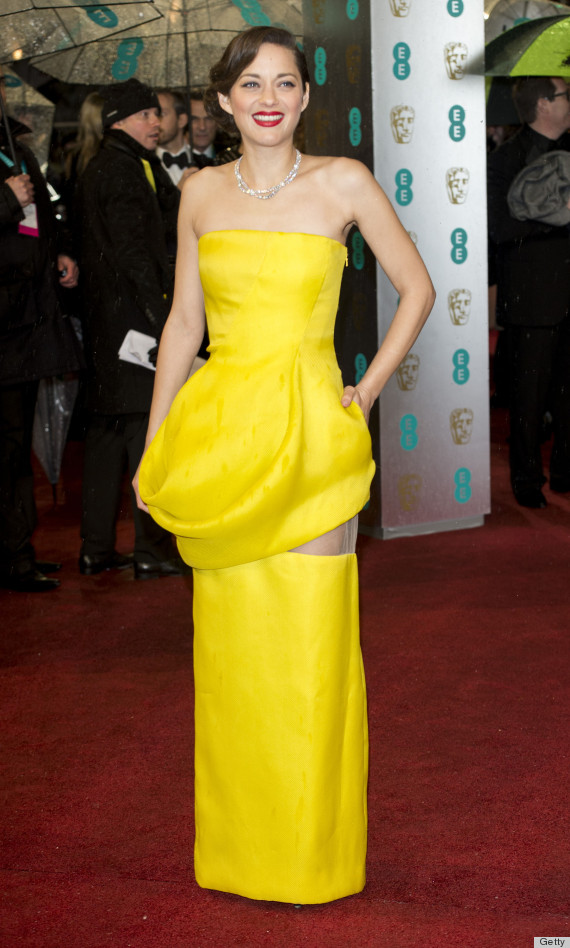 More fashion secrets from French women:
The Secrets To French Style
French women have low-key style days, too, but those days rarely include sweats or fleece. Instead, they do casual the classy way -- an oversized Oxford shirt and a pair of slouchy pants.

Tautou's dress looks stunning and elegant with all its ruffled layers.

Neon, patterns and bright colors are great, but when in doubt black is always a timeless and chic option.

You'll rarely catch a Parisian in heavy foundation and thick eyeshadow. Instead, they keep it light and natural, playing up their best features with a swipe of mascara or a nude lipstick.

To break up an all-black outfit, follow Bruni's lead and sport a bright necklace.

Upon first glance, Paradis' outfit is pretty basic. A black blazer paired with a high-waisted skirt is hardly innovated, but when you look at all of the details, you realize how fashion-forward her look really is. The shoulder pads in the jacket, combined with the textured skirt and embellished top take this ensemble from ordinary to extraordinary.

A veil is a bold move when you're not walking down the aisle, but when paired with red lips and the right attitude, it can never fail.

The French have perfected bedhead hair. And not only is it insanely sexy, but it's also insanely easy.

Gainsbourg is quite revealing with her low-cut shirt and tight skirt, but she balances it out to keep it sophisticated.

You can almost always see Maigret in long tapered pants and her blunt bangs.

Instead of having stacks and stacks of clothes that you probably won't wear, invest in a few key pieces that look great on their own.

As long as you have a confident and strong attitude, you can totally rock a t-shirt, jeans and combat boots.

Marlohe's eyes are perfectly dark-rimmed to create a sexy and alluring effect.

Ledoyen's dress is both classy and unique.

Roitfeld's billowy pants could have been a little questionable, but the leather attributes keep them classy.

Yes, the French are extremely sexy, but Mouzat shows us that balance is key.

You can add a sweet bow to a stiff tweed suit outfit to add a girly flair.

Fressange had some fun with the hot pink scarf she was wearing on this day.

Don't be afraid of fun and outspoken prints during your pregnant months. Sednaoui shows how great it looks.

Sophie Donelson interviews Michael McKinnon, Robert Couturier, Joan and Jayne Michaels, Izak Zenou, Valerie Pasquiou, Laurent Fuchs and Carolyn Englefield at the Holiday House, which benefits Susan G. Komen for the cure.
Want more? Be sure to check out HuffPost Style on Twitter, Facebook, Tumblr, Pinterest and Instagram at @HuffPostStyle.