George Clooney's Polka Dot W Cover Is Super Loud... But He Still Looks Great, Of Course (PHOTOS)
We should have figured George Clooney was an art aficionado. But we could have never anticipated his level of fashion daring.
Clooney is the cover star of W's Art Issue, an annual tradition that previously brought us Kim Kardashian naked and Nicki Minaj in a surrealist get-up. Clooney didn't strip down, but rather got buttoned-up in a bold black and white polka dot suit. In front of a polka dot background. With a polka dot car.
The arresting spread, shot by Emma Summerton and styled by Michael Kucmeroski, is an unexpectedly high fashion turn for Clooney, who's most often seen in sleek tuxedos. The Giorgio Armani suit and shirt, customized by Yayoi Kusama, are a loud statement, as is the hint of makeup we spy on Clooney's face (is that guyliner?).
But the accompanying article gives at least a bit of explanation for Clooney's arty move. The actor's latest film, "The Monuments Men," is about a team of art historians and museum directors and curators who fight to save works of art stolen by Adolf Hitler during World War II.
Not sure how Clooney's polka dots fit in there, but it doesn't really matter. Wild as this outfit is, of course, he pulls it off. Because he's George Clooney. See more photos at WMagazine.com.
PHOTOS: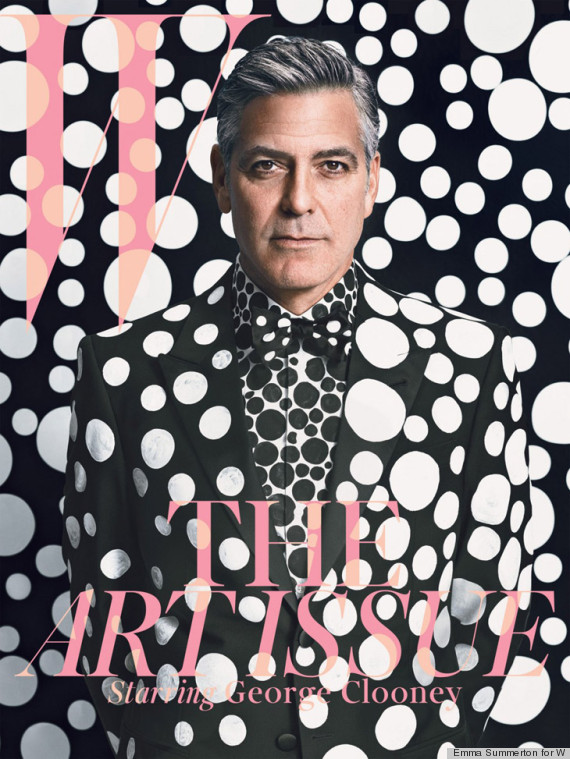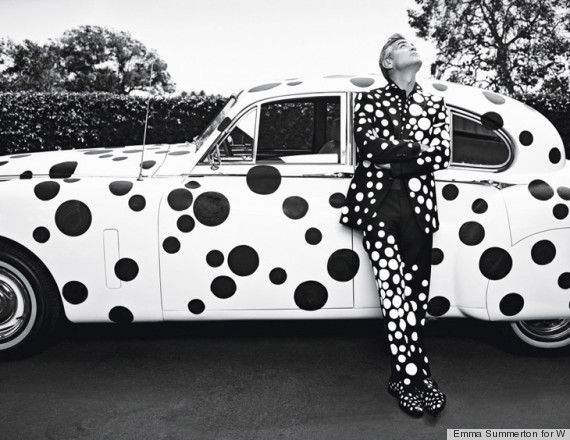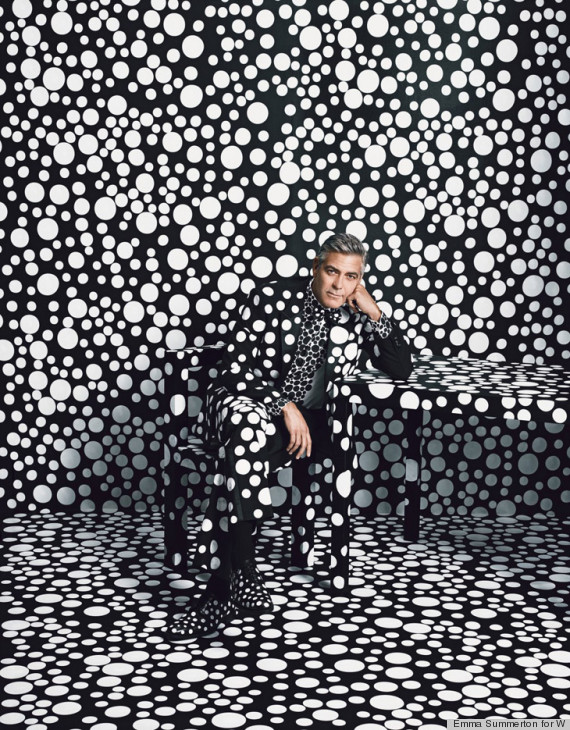 We're more used to seeing George like this...
George Clooney and Brad Pitt's Bromance
"For a long time now, Brad has been the biggest movie star in the world. He's bigger than me, bigger than DiCaprio. And I really admire how he deals with that. It's not easy for him. But he tries to be the most honest version of Brad Pitt that he can be. And he also remains unavailable. He's still a giant movie star because you can't get to him." -to Esquire, 2013

"My friends are rough on me. Brad Pitt's brutal, and Matt Damon. My friends used to change my outgoing phone message all the time. This was the old days, when you had a phone machine. They would change the message to something horrible and there was nothing I could do to change it back. That was always brilliant," -to Contact Music, 2012

"I'm working on [a prank] right now for Brad Pitt. It might end his career. I've been working on it for two years. I'm not going to tell you what it is, but just know, I got it." -to "Inside the Actor's Studio," 2012

"We're good friends, but it's different from what people think, meaning we don't spend a lot of time together. He has been to my home in Como; we motorcycle together. But until recently, I hadn't seen Brad in a year." -to The Hollywood Reporter, 2012

"Not only do I enjoy him as a person and respect his talent, but I also love what he does in the world. I can't speak highly enough about how hard he works at making the world better. I'm very proud to call him my friend.'' -to The Advocate, 2012

"Brad is my pal, and we're a long way from that discussion anyway. But I'd like living in a world where Brad Pitt has an Academy Award. I watched Moneyball and I couldn't do what Brad does." -to Entertainment Weekly, 2012

"He is very handsome, I think. There's some story that I'm now going to be godfather of [Pitt and Angelina Jolie's] children. No [it's not true], but I enjoy hearing it." -to the Today Show, 2008

"In terms of well-known celebrities, Brad's in New Orleans right now, and he's done a tremendous job of trying to bring focus and build houses and hit us all up for dough and building houses. And he's really good at that." -to PopSugar, 2010

"We're partners. We have a company together and we have sort of this life's too short rule and the life's too short rule for us is work with actors that are good and enjoy what they do and don't make other people unhappy. I think we're very lucky and very privileged to be here." -to Larry King, 2006

"George was really the movie star gentleman; he made everybody comfortable, he was cracking jokes … He tried to pass himself off as Brad Pitt." - Activist Fred Kramer, on George Clooney's 2012 protest outside the Sudanese Embassy
Want more? Be sure to check out HuffPost Style on Twitter, Facebook, Tumblr, Pinterest and Instagram at @HuffPostStyle.