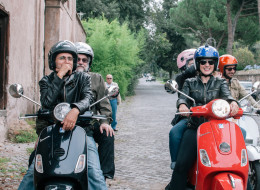 One of the reasons I started my website is that I wanted a place for women to come together and dream. We women need to know that we don't have to hang on to an old dream that has stopped nurturing us -- that there is always time to start a new dream. This week's story is about an ambitious career woman, who began to reflect on what she really wanted out of life after tragedy struck on 9/11. Annie Ojile decided to make her dream of living in Italy a reality, and ended up with a new career that allows her to show the country she loves to hundreds of visitors in a unique way. -- Marlo, MarloThomas.com
By Lori Weiss
It was a sunny day in New York City and Annie Ojile had taken the day off from her merchandising job, so she could prepare for a big interview with a top name designer. As she picked out the perfect outfit for what she saw as her next big step, the phone rang. It was her boyfriend, telling her to look out their penthouse window.
"It was 9/11," Annie recalled, "and the first plane had just hit the World Trade Center. At that point, no one knew what was happening. I thought it was an accident. It was all over the news, so I called my mother in Minneapolis and as we were talking, I saw another plane coming. I thought it was a rescue plane. And then I watched it go right into the other tower."
It was a moment that would change the lives of people around the world -- and it made Annie begin to question the path she was on.
"As the days past," she continued, "I began to ask myself how important it was for me to be putting clothes on hangers. So many people had lost their lives, and it made me wonder about the way I was living mine. It made me think about what I really wanted to do. I'd talked about living in Italy from the time I was nineteen and I didn't want to be that girl that just talked about it anymore."
Annie had been to Italy before moving to New York, and felt as if she'd found her home there. While she'd grown up in Minnesota, she had Italian roots, and they seemed to call to her from the first moment she landed in Milan. Practicality and a fashion degree had brought her to New York. But her desire to live life to its fullest would guide her on an unexpected journey -- one that would ultimately lure hundreds of others to follow her.
But first there would be a stop back home in Minnesota -- to prepare for a fresh start.
"I went home," Annie explained, "and took a six week course that prepared me to teach English as a second language, so that I'd have a way of making money when I got there. But it was a tricky time. The war was breaking out and I felt like I needed to wait and see how the climate of the world might change. So I tried to just live in the moment, spend time with friends and family, and I ended up starting a second career in media production."
But it wasn't long before Annie began feeling that familiar tug that called her to Italy. She had filled the nagging void by working around the clock -- but the more she poured herself into work, the more she came to realize that her dream was drifting away from her.
Annie was turning 30 and she knew that if she didn't follow her heart soon, there was a good chance she never would. So in 2005, she packed her bags and booked a flight to her future.
"I knew I was going to have to find a way to make money when I got there, so I decided to move to Rome. The Cinecitta studios were located there and at the time, it was kind of like the Hollywood of Italy. But I quickly learned that whenever you have a plan, God is laughing."
"I came from the world of fashion and media production," she explained, "so when I got to Rome, I had a sense of urgency. I wanted things to move at the pace I was used to. But Italians have a different work ethic than Americans. They're passionate and meticulous and artistic, but they're more relaxed and easy going. And it's all about who you know -- whether you're the wife or the cousin. It can be a disadvantage if you're a girl from Minnesota who knows two people. I had to change my expectations."
So Annie decided to combine her passion for Rome's rich history and quaint little towns with a skill that no one could deny -- her fluency in English. She took a job as a tour director and began sharing her love of Italy with American high school students -- students who were close to the age she was when she decided that one day she'd make Italy her home.
Article Continues Below Slideshow
Annie and her Italian husband Giovanni lead their clients on a tour of the historic Appian Way, the road that connects Rome to Brindisi and Apulia in southeast Italy.

Annie's nickname among her clients is the "Scooter Maven!" Here she is touring with two of her customers, driving their own vintage Vespa in Rome.

Annie, her father, Bill and sister, Gina at the famous Trevi Fountain in Rome during her semester abroad in 1997. This was the first time that she had ever visited the fountain, and she threw a coin in for good luck. It obviously worked!

Annie and her sister Gina tour the historic Colosseum in Rome during Annie's semester abroad.

Annie was so excited to visit Venice for the first time! During her semester abroad in 1997, she visited St. Mark's Square, which is known for it's abundance of pigeons.

Annie and her sister Gina take their first gondola ride ever on the Venetian lagoon!

Annie's degree in fashion brought her to her merchandising job in New York City. Here she shows off a New York delicacy - hot dogs!

After Annie moved from New York City back to her hometown of Minnesota, she got side-tracked with a second career in production, which delayed her dream even further! But Annie's job did have some perks -- her job allowed her to meet celebrities like basketball star Magic Johnson. Here she is at a Best Buy event with her friend and mentor Diane Field.

Annie leads a group of high school students through the streets of Rome in 2006. This was her very first job in tourism!

This is the very first scooter that Annie ever rode! It was an old Scarabeo with only a left mirror, which is very typical for old scooters, and especially in Rome.

Annie shows her cousins from California around on scooters. This tour would be the inspiration that gave birth to Scooteroma!

Annie's first clients smile in front of their scooters after Scooteroma's very first official tour.

Annie and her friend Marianna scootering around town for Annie's 34th birthday. Annie had no idea how her life would change the very next day, when she went on her very first date with her now husband, Giovanni!

Annie sports her USA helmet as she leads a Scooteroma tour.

Annie and her now husband, Giovanni, on their first date at a Bruce Springsteen concert in Rome.

Giovanni and Annie flew to Annie's hometown in snowy Minnesota for their wedding ceremony. Annie says that her Italian husband is always cold, especially in MN!

On their trip to "the city of love," Giovanni and Annie pose in front of a wall that says "I Love You" in over 300 languages.

Annie and Giovanni kiss for the camera on their wedding day! The two got married in the same church as Annie's parents did.

Annie and Giovanni used flower arrangements with names of places in Italy for their wedding table decorations. Their table setting had the name of the hotel where they met.

It's an old Italian tradition for the bride and groom to walk through the town to the church with their guests. The couple walked with their entourage from Giovanni's grandparents house, hand-in-hand with Giovanni's grandmother, through the town of Fondi, where Giovanni's mom was born and raised, to their ceremony.

Annie and Giovanni kiss outside of the chapel in Italy where they had their second ceremony for Giovanni's family and friends.

Annie and Giovanni spent their honeymoon in Annie's old stomping ground - NYC! Here they head to Ellis Island via ferry, with Lady Liberty in the background.

Annie rides along with driver Valerio and her tour through the center of downtown Rome with clients, with Giovanni riding along in the back of the pack.

The hardworking couple poses for a photo during a Scooteroma tour through Rome.
"It was tourism boot camp," she laughed. "I was taking these groups to a lot of places I'd never been before. I'm normally very organized, so I had to learn to fly by the seat of my pants and just put one foot in front of the other, with 30 people following me. But what I also learned was that I could use those organizational skills and everything I learned working in production to create a better way to see the country."
Annie decided to take her show on the road -- offering tours of Rome and Tuscany to private clients. And once again, she used something that came naturally to get started -- her American network of family and friends.
"Ask anyone who has lived abroad what happens when they get settled and they'll tell you that first their family comes to visit, then the cousins and then the aunts and uncles. And I loved showing them around Italy. But then friends of friends and colleagues began calling -- that's when I realized I could put a price on the individual tours I was giving."
As word began to spread, Annie supplemented her income by taking other small jobs to make ends meet. She even bought a broken down scooter to get back and forth to a job at a wine bar that would close at 4 AM. And while she laughs about the trouble she had learning to navigate traffic on two wheels -- it would be that scooter that would finally bring Annie to her destiny.
"My really fun cousins had come to visit from California," Annie remembered, "and they wanted to rent scooters and go for a spin. So I said 'Andiamo' -- let's go! And they followed me on an impromptu ride. We were having so much fun that one of them said you should make this one of your tours."
And once again, a path Annie hadn't planned, took her to the next step. Scooteroma Tours was born, and people from around the world began calling to book their Italian adventures. While many tourists come to Italy to see history, others come with the idea of experiencing their own "Roman Holiday," the film in which Audrey Hepburn and Gregory Peck circle the coliseum on scooters. And Annie had set herself up to play a starring role.
But a story set in Rome wouldn't be complete if it didn't include a little romance -- and that's where a tall, dark and handsome concierge named Giovanni stepped in.
"I had picked up clients at the Hotel de Russie," Annie recalled with a smile, "the top five-star hotel in Rome, and when I brought them back, Giovanni was at the desk. The helmet I wear is covered with stars and stripes, and he asked me where I was from. When I told him Minnesota, he said, 'Can you tell me how Jesse 'The Body' Ventura was elected governor?' I was blown away and thought, This guy must be really smart -- he must read a lot of newspapers to know that. So I did something very American. I gave him my card and told him to call me if he ever wanted to hang out."
And Giovanni did call -- to invite Annie on a very American first date. Bruce Springsteen was staying at the hotel, and he'd given Giovanni VIP tickets to his concert. That night, the girl who was "Born In The USA" but wanted nothing more than to live her life in Italy, realized that the journey she had tried to guide so carefully -- was about to take yet another unexpected, but joyful, turn.
The tour guide and the concierge decided to bring the best of their worlds together -- becoming partners in life and in business. In January of 2010, five years after Annie made the decision to follow her dream, they walked down the aisle in Minnesota, and then returned to Italy to continue their magnificent adventure. They now run Scooteroma, as well as Rome and Tuscany Tours together and have expanded their offerings to include the Amalfi Coast and all of Italy.
"What I've learned," Annie reflected, "is that if you plan less, beautiful things can happen. My goal was to be on Italian soil, so I had to be open to the possibilities and find a way to make that happen. And it led me to places I never imagined."
Add Marlo On Facebook:
Follow Marlo on Twitter:

Weekly Newsletter

Sign up to receive my email newsletter each week - It will keep you up-to-date on upcoming articles, Mondays with Marlo guests, videos, and more!

Sign up here