WARNING: Your heart may not be able to handle what you're about to see.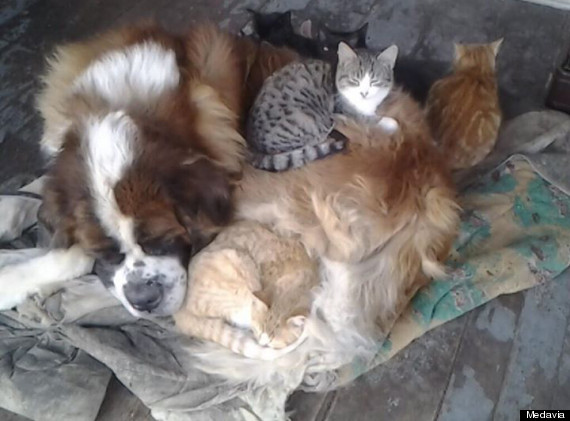 Yankee, a 9-year-old St. Bernard who lives on a farm in Iowa, cuddles with stray barn cats on winter nights to keep them warm.
"It happens quite a bit during the winter, as it can get pretty cold here," owner Keegan Vansoelen told the Daily Mail. "Even during the summer they lay with him. I think they do it just to be close to another creature."
You'd think the giant pooch would frighten the cats, but they know he's got a heart to match his big body. "They'll sleep like that as long as he lays still and doesn't get up," Vansoelen told the paper. "Most of the time he just lets them lay and sleep on him."
Ladies and gents, we think we've finally seen it all.
H/T: The Daily Mail
ALSO ON HUFFPOST:
Mango And Milkshake Are Adorable Best Friends