Pew Research updates a 20-year time series on Americans views of foreign policy and finds a perception that U.S. power is in decline. A new Harvard survey of college-age Americans finds much worry about student loan debt. And on a slow day, we bring you the definitive survey on The Family Guy dog. This is HuffPollster for Tuesday, December 3, 2013.
AMERICANS SEE DECLINE IN U.S. POWER - Pew Research: "Growing numbers of Americans believe that U.S. global power and prestige are in decline. And support for U.S. global engagement, already near a historic low, has fallen further. The public thinks that the nation does too much to solve world problems, and increasing percentages want the U.S. to "mind its own business internationally" and pay more attention to problems here at home...The survey of the general public, conducted Oct. 30-Nov. 6 among 2,003 adults, finds that views of U.S. global importance and power have passed a key milestone. For the first time in surveys dating back nearly 40 years, a majority (53%) says the United States plays a less important and powerful role as a world leader than it did a decade ago. The share saying the U.S. is less powerful has increased 12 points since 2009 and has more than doubled – from just 20% – since 2004." [Pew Research]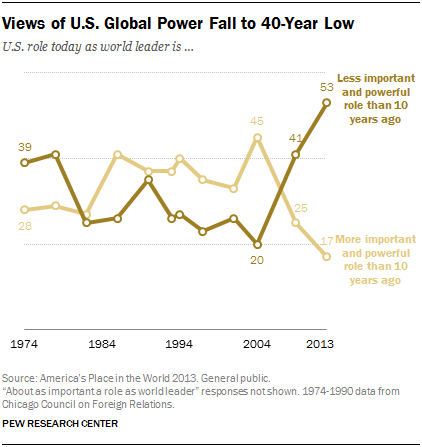 SKEPTICISM ABOUT IRAN... More from Pew: "The surveys, which were completed before the multilateral agreement aimed at freezing Iran's nuclear development program, find that most Americans do not believe that Iranian leaders are serious about addressing concerns over its nuclear program. Among those who heard at least a little about the nuclear talks, just 33% say they think Iranian leaders are serious about addressing international concerns about the country's nuclear enrichment program, while 60% say they are not….Among the public, there are partisan differences over whether Iranian leaders are serious about addressing concerns over the country's nuclear program. Majorities of Republicans (73%) and independents (62%) who have heard at least a little about the nuclear talks say Iranian leaders are not serious in addressing nuclear concerns. Democrats who have heard about this issue offer more mixed evaluations; 42% say Iranian leaders are serious and 48% say they are not." [ibid]
...But support for the deal - A Hart Research (D) poll for Americans United for Change finds Americans bullish on Iran's nuclear deal: "On both an unaided and aided basis, Americans support the Iran nuclear agreement. Voters want Members of Congress to monitor the agreement but not undermine it. The large majority of voters want to give negotiations for a permanent settlement a chance to work before passing any new sanctions. Key points for voters on an interim agreement: that most sanctions remain in place and that Iran's compliance is monitored. Voters oppose a military strike against Iran's nuclear facilities and see negotiations as an important alternative." [AUFC, toplines]
DEBT A MAJOR WORRY FOR STUDENTS - Tyler Kingkade: "Fifty-eight percent of adults ages 18 to 24 consider rising student debt levels in the United States a 'major problem,' according to survey results released exclusively to The Huffington Post on Tuesday by the Harvard University Institute of Politics. Only 3 percent said it's not an issue at all, while 22 percent called it a 'minor problem.' Yet even among people who weren't enrolled in college, 54 percent still considered student debt a major issue. A plurality -- 39 percent -- blame colleges and universities for the rising amount of student debt, compared with just 10 percent who think students are at fault. Survey respondents were more likely to blame colleges for rising student debt if they were currently enrolled in school." [HuffPost]
AND NOW FOR SOMETHING COMPLETELY DIFFERENT - Michael McAuliff: "Fans of 'Family Guy' from all walks of life and across the political spectrum want the liberal-leaning family dog Brian brought back to life, according to a new Huffington Post/YouGov poll released Tuesday -- except for a 'very liberal' handful who approve of the pet's demise. The 12-season-old show on Fox killed off the Prius-driving pup the week before Thanksgiving, setting off a storm of protest online...Americans generally are not pleased, but people who have watched the show are especially upset, with 58 percent of 'Family Guy' viewers saying they either strongly disapprove (38 percent) or somewhat disapprove (20 percent) of the decision by the show's creators to have Brian run down by a luxury sport sedan, according to the poll. A similar 58 percent said they want to see Brian star in his own canine revival." [HuffPost]
WANT TO JOIN THE HUFFPOLLSTER TEAM? - We're looking for a full-time, paid intern this winter/spring to help us cover the 2014 election. [Apply here]
HUFFPOLLSTER VIA EMAIL! - You can receive this daily update every weekday via email! Just enter your email address in the box on the upper right corner of this page, and click "sign up." That's all there is to it (and you can unsubscribe anytime).
TUESDAY'S 'OUTLIERS' - Links to more news at the intersection of polling, politics and political data:
-National economic confidence rose in November. [Gallup]
-California voters' disapproval of Obama has grown, although a majority still rate him positively. [Field]
-Conservatives prefer "merry Christmas." Liberals don't care. [WaPost]
-Americans trust state and local governments more than the feds. [YouGov]
-Sean Trende reviews 'The Gamble' and the rise of data driven journalism. [RCP]
-Reid Wilson writes up the Civis analytics map of the 2012 presidential results by media market. [WaPost]
-Vladimir Putin's approval rating reaches a new low. [Reuters]