Just because Peyton Manning is one of the greatest quarterbacks of all time doesn't mean he's forgotten about the regular folk -- for instance, when a bride-to-be sent him a random wedding invitation, he actually took the time to reply.
Reddit user LackadaisicalRomp posted a picture of Manning's RSVP Monday, with the caption, "My sister sent a wedding invitation to Peyton Manning."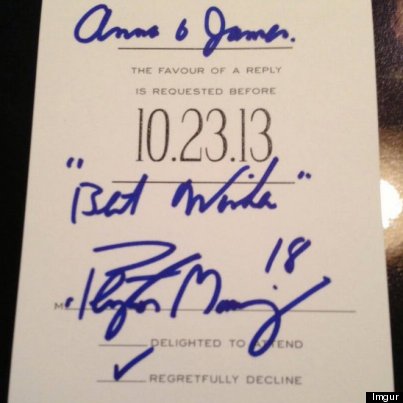 Though he regretfully declined, Manning is now officially in the running for "Nicest QB in the World." Which we all know is the most important award of all time.
Check out some celebrity wedding invitations in the slideshow below.
Hollywood Wedding Invites
For the Charleston wedding of America's sweethearts, we love this playful yet sophisticated design with fabulous fonts and a pop of soft pink, a nod to the bride's stunning pink diamond and rose gold engagement ring.

This invitation pairs clean type and neutral colors with a subtle flourish and a burst of blue for a chic and effortless statement, reflecting Jennifer's legendary sense of style.

The simple black bow ties and classic ecru couldn't be a more perfect pick for this handsome couple, who recently launched Tie the Knot, an exclusive line of bow ties benefiting marriage equality organizations.

We all swooned over these eye-catching, playful blooms and were immediately reminded of the dreamy light pink wedding dress recently worn by this stunning bride.

We think the tilted, custom type on this soft blush design offers a unique take on a traditional invitation, perfect for this couple who exudes a laid-back edge and seems to embrace personal style.

The soft and delicate watercolor flowers paired with the bright, bold color in this design by Coloring Cricket is perfect for Sofia's outgoing personality and feminine style.
Keep in touch! Check out HuffPost Weddings on Facebook, Twitter and Pinterest.