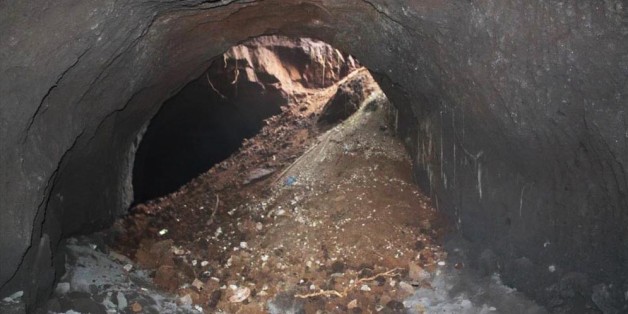 "There might be cracks, so they will be showing as veins almost, or openings, so we map the openings and map any kind of detachment," Giuseppina Kysar Mattietti, a geoscientist at the university, told LiveScience. "In some spots, the ceiling of the tunnel sloughs off like cracking plaster. In others, there are total collapses — sometimes not reaching quite to street level, but leaving very little ground between the surface and the void."
The quarries were excavated under the city in order to carve out these building materials as early as the eighth century B.C.E., according to research presented at a meeting of the Geological Society of America last October. Running for "tens of kilometers" with depths ranging from 23 to 65 feet below street level, much of this underground network has not been mapped -- something that worries Roman officials.
"As Rome grew, it developed into the areas above the quarries," the researchers noted in October. "Today, in many of these areas multi-story building foundations discharge their weight onto the quarries' supporting pilons."
Last year there were 83 collapses, nearly double the number in 2011, according to LiveScience. Part of the problem is that while early quarry tunnels were narrow and thus relatively stable, over time they were widened. Centuries of weathering and erosion have also taken their toll.

And it's not only collapsing quarry tunnels that threaten to swallow up parts of the Eternal City. Last year, city officials and scientists launched a similar initiative to map the mile-long tunnel known as Rome's Great Sewer, the Telegraph reported. Dug in the fifth century B.C.E., this tunnel is now clogged with debris, raising fears that it, too, might collapse.
SUBSCRIBE AND FOLLOW
Get top stories and blog posts emailed to me each day. Newsletters may offer personalized content or advertisements.
Learn more