Winter might not officially kick off until December 21, but the temperature's dropping, we're getting all bundled up and the comfort food-filled holidays are just about here. And let's face it: braving the cold, hiding under a bunch of layers and being surrounded by indulgences can be the perfect recipe for packing on a few pounds.
Marjorie Korn, SELF magazine's associate editor of food and nutrition, stopped by HuffPost Live just in time to share the five best tips to avoid gaining weight this winter (while still enjoying all the season has to offer, of course!). Read on for her healthy secrets and watch the video above for more tips.

1. Exercise Outdoors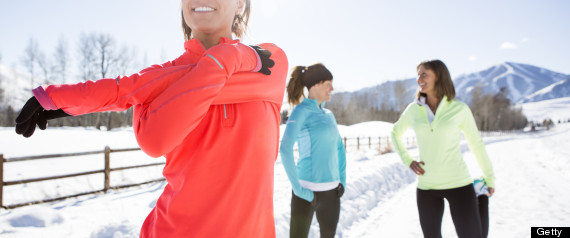 You may be disinclined to go outside because it's chilly, but Korn says by all means don't hunker down by the fire. Get yourself some cute workout gear and take it out for a spin! Whether it's running, cycling, or oh-so-festive ice skating (which burns 450 calories an hour and tones your butt and thighs by the way), being active in nature is simply more fun than battling crowds at the gym. Research also shows that the refreshing burst of air will keep you coming back.
2. Stock Up On Superfoods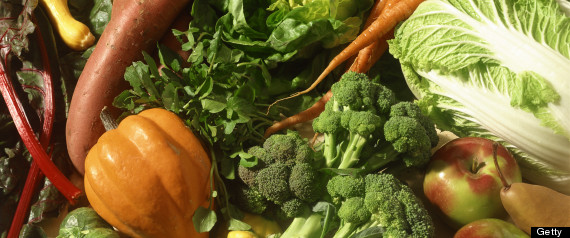 It's true that some foods can actually help you lose weight, not to mention reduce your risk of disease. The greatest part is that many superfoods are also holiday staples, so you probably have some on your menu already!

Keep passing those sweet potatoes. The orange-colored spuds contain lots of fiber, which makes you feel fuller for longer.
Kale is not only the trendiest leafy green out there right now, but it's also the most nutritious. Serve it at your holiday dinners and friends and family will be thankful for the new tradition.
Apples are superstars, so if you find some in, say, a pie, at least you know you're getting some health benefits out of it!
3. Lighten Up Seasonal Favorites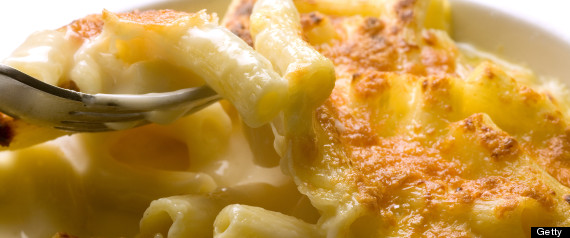 Nothing hits the spot quite like a hearty scoop of macaroni and cheese. You don't have to deny yourself this comforting favorite thanks to some cal-cutting research from SELF! Red Rooster Harlem chef and owner Marcus Samuelsson threw veggies like kale, mushrooms and onions into his dish and used turkey bacon in place of the fattier stuff. Mac & Cheese, Please! author Laura Werlin incorporated butternut squash into her sauce, which adds to its creamy texture and gives a nice dose of vitamins A and C. Perhaps the easiest swap of all when it comes to mac and cheese though is the cheese. Try Parmesan instead of American, for example -- since the flavor is stronger, you'll be able to use less and be just as satisfied.
4. Have An Eating Plan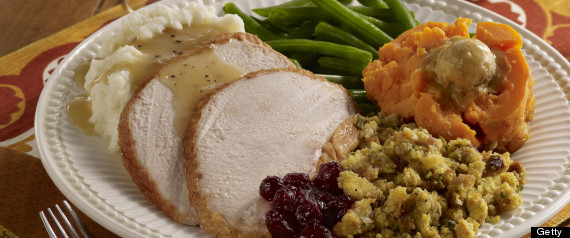 "People can freak out and set themselves up for disaster," notes Korn. All those choices at the table aren't a bad thing though. If you love grandma's cookies, you can have them! To make sure you don't overdo it by the end of the day, be prepared:

Eat breakfast in the morning to get your metabolism going.
Exercise before the feast. It will influence the way you feel (and the way you think) about food.
Play with your plate: Pick and choose which proteins and carbs you really want.
Wait 20 minutes before grabbing seconds to see if you're really still hungry.
Don't drink too many calories. Water is best, but a glass of red wine is good for your heart. If you're more into the hard stuff, mix your liquor of choice with sparkling water and lime instead of tonic or soda.
5. Nix Stress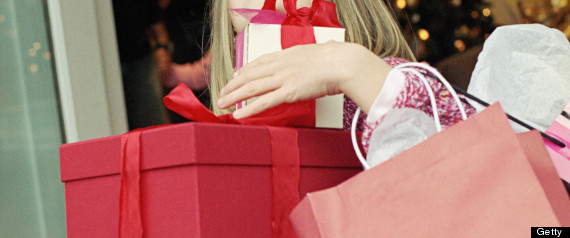 From parties galore to gift-giving and family reunions, there's no doubt this busy time of year can be super stressful -- and take a physical toll on us. Stressing makes cortisol levels rise, which forces your body to hold onto fat. In turn, hunger hormone levels rise, and then we end up doing things like "eating our feelings." Follow Korn's steps to fight the stress of the season:

Have a financial plan. Factor in presents and going out on the town to celebrate.
Ready yourself with answers to all those awkward questions about work, your love life and anything that could be uncomfortable.
Remember to rest. Getting a solid night's sleep is crucial. You'll combat stress and make better food choices after catching enough Zzs, too.

Who needs New Year's resolutions with this list?!
Follow Lauren Mikler on Twitter: https://twitter.com/LaurenMikler
Also on HuffPost:
Loading Slideshow
Mac And Cheese

Nothing quite warms you from the inside out like a warm bowl of cheese, cream and refined carbohydrates. But, believe it or not, there are ways to lighten up even this hearty classic. "For the pasta, try using whole wheat, whole spelt or brown rice pasta. They have a high fiber content that can help on the digestion of the fat in the cheese," Bauer wrote in an email to HuffPost Healthy Living. "And for the cream, use olive oil, low fat milk and American cheese instead of cheddar." You can also add mashed cauliflower or pureed butternut squash to the pot, Blatner says. For a new, lighter take, try Forberg's "MacQuina and Cheese" recipe, excerpted from her book <a href="http://www.amazon.com/Cooking-Quinoa-For-Dummies/dp/1118447808/ref=sr_1_1?ie=UTF8&qid=1358545526&sr=8-1&keywords=Cooking+with+Quinoa+For+Dummies">Cooking with Quinoa For Dummies</a> -- it clocks in at 594 calories per serving (the recipe cooks up four), 28g of fat (12 saturated), 56 mg of cholesterol, 700 mg of sodium and 28 g of protein. Ingredients Cooking oil spray 8 ounces dry quinoa pasta elbows 2 teaspoons, plus 2 tablespoons grapeseed or olive oil 2 tablespoons quinoa flour 2 cups low-fat milk 2 teaspoons dry mustard 2 teaspoons gluten-free Worcestershire sauce 21⁄2 cups shredded, reduced fat Cheddar cheese, divided 1 teaspoon salt 1⁄2 teaspoon pepper 1⁄2 cup cooked white quinoa, for topping 1 tablespoon grated Parmesan cheese, for topping Directions 1. Lightly coat a 2-quart casserole or a 9 x 9-inch pan with cooking oil spray. Preheat the oven to 400 degrees. If you don't have cooked quinoa on hand, cook the quinoa, following the package directions. 2. Prepare the quinoa macaroni according to the package instructions, cooking for approximately 7 minutes. (Be careful not to overcook.) Drain well, rinse with cool water, and gently toss with 2 teaspoons of the oil. Set aside. 3. In a 4-quart saucepan, heat the remaining 2 tablespoons of oil over medium-high heat. Add the flour and whisk until bubbly, about 1 minute. Slowly pour the milk into the flour-oil mixture and continue whisking until a sauce begins to thicken. Reduce the heat to simmer. 4. Whisk in the mustard, Worcestershire sauce, and 2 cups of the cheddar cheese. Season with salt and pepper. Remove from the heat and add the cooked macaroni, stirring well to combine. Transfer the macaroni to the prepared baking dish. 5. In a small bowl, combine the cooked quinoa, the remaining 1⁄2 cup of cheddar cheese and the Parmesan cheese. Mix well and sprinkle the topping evenly over the macaroni. Bake until golden and bubbling, 20 to 25 minutes. <em>Excerpted from Cooking with Quinoa For Dummies. Copyright (c) 2013 by John Wiley & Sons Canada, Ltd. Excerpted with permission of the publisher.</em>

Mashed Potatoes

This winter classic is comforting long past Thanksgiving. But combining pureed spuds with cream, butter and salt isn't exactly easy on the waistline. To start, Blatner suggests swapping out mashed cauliflower for some of the potatoes -- then substitute vegetable broth for cream and butter to add flavor. Parsnips also work as a potato substitute, Forberg adds -- she suggests blending it all together with seasonings, fresh herbs and caramelized onions for "rich, indulgent flavor." For a healthier bowl of mashed potatoes, check out this recipe from Bauer: Cut a whole cauliflower head in small pieces and cut one leek in half moon slices then sauté them with a little olive oil. Add one cup of millet and enough water or low-sodium chicken broth to cover. Bring everything to a boil, and then simmer until the cauliflower is completely cooked. Mash everything with hand masher and add a hint of Parmesan cheese for flavor.

Hot Chocolate

It'd practically be criminal to go all winter long without a warm, indulgent cup of hot chocolate. But if it's more than an occasional splurge, you might want to cut down on the calories, while still maximizing flavor (and the <a href="http://www.huffingtonpost.com/2012/03/28/chocolate-health-benefits_n_1383372.html">health benefits of chocolate</a>). Blatner suggests swapping the regular stuff for hot chocolate almond milk -- for extra flavor, you can brew a bag of mint tea in the cup, as well. "The quality of your recipes is a function of the ingredients you put into it," Forberg says. She recommends buying the best cocoa powder you can afford and mixing it with low-fat milk and a drop of pure vanilla. For a lighter version (using <em>quinoa</em>), check out Forberg's recipe from her new book, which totals 171 calories a cup: Ingredients 1⁄4 cup unsweetened natural cocoa powder 6 cups low-fat or fat-free milk 1⁄4 cup agave nectar 1⁄2 cup cooked quinoa One 3-inch-long cinnamon stick, broken in half or 1⁄4 teaspoon ground cinnamon 10 whole cloves or 1⁄8 teaspoon ground cloves 1 teaspoon pure vanilla extract Directions 1. If you don't have cooked quinoa already available, cook the quinoa according to the instructions on the package and allow it to cool completely before proceeding. 2. Place the cocoa powder, milk, agave nectar, and quinoa in the jar of a blender. Blend or process until very smooth. 3. Pour the mixture into a 3-quart saucepan. Add the cinnamon and cloves to the pan and place over medium-high heat. Bring the hot chocolate just to a simmer, but don't boil. Reduce the heat to very low and allow the chocolate to steep for 5 minutes. Stir in the vanilla. Strain the hot chocolate into 6 mugs. <em>Excerpted from Cooking with Quinoa For Dummies. Copyright (c) 2013 by John Wiley & Sons Canada, Ltd. Excerpted with permission of the publisher.</em>

Creamy Soups

While a wholesome cup of chicken noodle soup can actually have <a href="http://www.huffingtonpost.com/2013/01/17/chicken-noodle-soup-flu-delivery-order-gatorade-matzo-ball_n_2497340.html?utm_hp_ref=healthy-living">healing powers for those wintertime sniffles</a>, many cold-weather soups are loaded with heavy cream (read: calories). To get that indulgent creamy, thick texture without all the guilt, Blatner suggests using a hand blender to puree soup. You can also puree certain vegetables -- like white beans and caramelized onions -- to thicken a brothy soup, Forberg says. And when you must use milk? Opt for 2 percent instead of whole. Bauer likes this <a href="http://www.jamieoliver.com/recipes/vegetables-recipes/corn-chowder">lighter take on corn chowder from Jamie Oliver</a>.

Warm Apple Cider

This cold-weather staple is a delicious way to stay toasty throughout the winter -- but a mug-full is also loaded with tons of sugar. Forberg points out that most of us get too many calories from sweetened drinks, and typically recommends people eat their calories rather than drink them. But if you simply can't resist, try diluting the caloric effect by blending half a cup of apple cider with half a cup of spiced, herbal tea. You can also mix it with calorie-free sparkling water, Blatner suggests. And remember: apples are sweet enough on their own. "The smart tip here is not to add extra sugar to your apple cider," Bauer says. "The apple cider itself is already super sweet. So enjoy them with only the natural sweetness of the apples."

Meatloaf

While this one isn't full of butter and heavy cream, red meat and bread crumbs aren't exactly the picture of health, either. Keep it lighter by mixing in lentils in place of some of the ground beef, Blatner says. You can also "hide" shredded vegetables in the mix, such as carrots, zucchini and broccoli. And Bauer suggests swapping the beef out entirely for turkey. "Just one serving of turkey provides 65 percent of your recommended daily intake of protein," she says. "Turkey contains B vitamins, selenium and sulphur, making it a great antioxidant and anti-inflammatory food." For a lighter meatloaf recipe, check this one out from Forberg, which is 194 calories per serving (the whole loaf is six servings): Ingredients 1 pound ground turkey breast 2 cups cooked quinoa (red is preferred) 1⁄2 cup quinoa flakes 1⁄2 cup minced yellow onion 1⁄2 cup shredded, low-fat cheddar or Pepper Jack cheese 1⁄4 cup gluten-free barbecue sauce 2 teaspoons minced garlic 2 teaspoons gluten-free Worcestershire sauce 2 teaspoons chili powder 1 teaspoon ground mustard 1 teaspoon smoked salt Directions 1. If you don't have cooked the quinoa on hand, cook the quinoa, following the package instructions. 2. In a large mixing bowl, combine all the ingredients until they are well-mixed (you'll have about 4 cups) and place the mixture into the refrigerator for at least 1 hour or overnight. 3. Preheat the oven to 300 degrees. Shape the meatloaf mixture into a rectangular loaf on a nonstick sheet pan. Bake for 1 hour, or until the internal temperature is 160 degrees and the meatloaf is cooked through. Serve hot or at room temperature. <em>Excerpted from Cooking with Quinoa For Dummies. Copyright (c) 2013 by John Wiley & Sons Canada, Ltd. Excerpted with permission of the publisher.</em>

Chicken Pot Pie

Believe it or not, you can make a healthier version of this cold-weather favorite at home. "First, choose a whole grain crust instead of the classic white crust," Bauer says. "Second, pick skinless chicken breasts, which are much lighter and contain much less cholesterol than the other parts of the chicken." Finish off by adding in-season veggies, low-fat milk and low-sodium chicken broth. <a href="http://www.eatingwell.com/recipes/chicken_potpie.html">Check out this lighter version from Eating Well</a>.

Grilled Cheese

A cheesy, carb-filled comfort food that <em>also</em> takes us right back to childhood? This one is impossible to resist. The first step to crafting a healthier grilled cheese is choosing better bread. "Why use a loaf of white bread full of calories and no nutrients?" Bauer says. "Try whole grain bread or even a sprouted bread for better digestion. They have much more fiber and retain the vitamins and minerals found in the whole grain." As for the inside? "When choosing the cheese, pick a cheese that has lots of flavor, such as sharp or even extra-sharp cheddar," she says. "You'll be able to use less of it and still have a flavorful sandwich." While some people slather butter on the outside for a perfect crunch, Bauer recommends using a Panini maker instead. Don't have one? "Heat one tablespoon of olive oil in a non-stick skillet and press the sandwich for two minutes on each side until golden brown," she says. "If you want to go beyond, add some arugula leaves or any other green leaves to your sandwich."