Here's a filter Instagram doesn't have: mid-19th century silver-plated daguerreotype.
That was Robert Cornelius' choice when he took what is believed to be the world's first selfie, a self-portrait he snapped one day in October 1839 while standing in the yard behind his family's lamp store in Philadelphia.
Of course, "snapped," is a relative term, as the Library of Congress estimates young Cornelius had to hold this position for somewhere between three and 15 minutes, depending on the amount of light in his backyard during the exposure.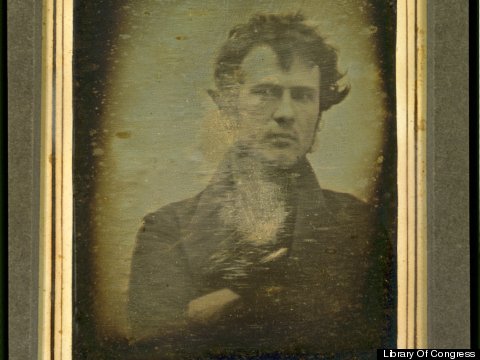 Unlike so many other stiff portraits from the dawn of photography, Cornelius' selfie seems considerably less formal. He stands slightly off-center, looking past the camera with uncombed hair and what looks like the beginnings of a scruffy beard. (Were he to also have a moustache, Cornelius might find himself at ease among today's hipsters.)
A note on back of the photo reads, "The first light picture ever taken."
After taking this photo, reports PetaPixel, Cornelius proceeded to open a photography shop -- one of the first in the United States -- before ultimately closing it in favor of helping run the family business.
Prior to the discovery of this photo, Business Insider ran a series of two selfies from the early 1900s, which the outlet speculated could be the oldest ever taken.
Also on HuffPost:
Loading Slideshow
Hey! That's Mine

One of the app's ultimate sins? Copycating. Make your own content and respect your fellow Instagrammers. It's not polite (or entirely legal) to take a screen shot of another person's photo, change the filter, and pretend like it's your own.

Avoid The Cliche

There are things you're going to want to snap a picture of -- cats, the shoes on your feet, greasy food, an artsy shot of nothing, etc. -- but beware of falling into an Instagram cliche. Followers don't mind these pictures every once in awhile, but give your fans something new to keep them coming back for more.

We Don't Want To See That

Some pictures are <a href="http://instagr.am/legal/terms/" target="_hplink">best left unposted</a>. You would think this would go without saying, but unfortunately it must be mentioned. Drugs, porn, pictures of you on the toilet, pictures of your "friends" on the toilet, a broken toenail: These are all perfect examples of what followers just don't want to see. (If we can't see it, then it's not real. So please don't let us see it.)

Beware The Rapid Fire

It's totally fine to take several photos and upload them to Instagram the same day. You're crossing a line, however, when you don't use Instagram for a week and suddenly spam your followers with 14 uploads in a matter of six minutes.

#ThatsAnnoying

Hashtags help Instagramers categorize pictures, or are used ironically much like on Twitter. For example, if you take a picture of the Statue of Liberty, a proper hashtag might be #nyc. But drowning a photo in irrelevant hashtags will only frustrate viewers. There is such a thing as #toomuch.

Show A Little 'Selfie' Control

Pictures you take of yourself might be fine, but too many "selfie" shots annoy followers. Who wants to see three or four Instagrams of a face in different positions? Refrain from taking MySpace pictures and flip that camera around on someone else occasionally.

Be My Friend

It's okay to want more followers on your social media sites, but isn't it a little desperate to type "please follow me!" in the comments box of pictures and throughout your "About Me" section? Create great content, regularly participate with other users, and you are guaranteed to earn followers without begging for them.

Baby Overload

Your children are adorable, and who wouldn't love that dog always featured on your Instagram? But similar to selfie shots, these objects of your affection may begin to grow old for your friends... particularly if you upload 16 photos of little Sue daily. Sometimes one picture says it all.

Like, Like, Follow, Unfollow

If you "like" a photo, then it's assumed you found that picture to be aesthetically pleasing. What is not assumed is that you expected a "like" or a "follow" in return. And don't even think about unfollowing someone because they didn't follow you back. This sort of middle school behavior is not appreciated. "Like" worthy pictures for the sake of liking them.

Don't Draw Something

Your followers want to see your beautiful or surprising photos. What they don't want to see is something that won't make sense to them, like an inside joke that you drew about a donkey and a pancake. In this case, it's best to just keep your doodles to yourself.

The Catch-All Rule

Here are Instagram words to live by: Document life, show off your quirky moments, and tell a vibrant, filter-filled story. Post those pics you're proud of, and your followers will probably "like" them, too.