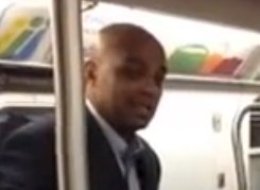 As a NBA Hall Of Famer and an Emmy Award-winning broadcaster Charles Barkley has been afforded the opportunity to travel across the globe. Barkley has been places. He has seen things. He has been places and seen things with Michael Jordan.
Until Thursday, the 50-year-old Alabaman had apparently never braved the New York City Subway.
In New York to add his inimitable commentary to the nationally televised game between the New York Knicks and Brooklyn Nets on Thursday night, Barkley opted to travel from his hotel in Manhattan to the Nets' home in Brooklyn by way subway. Sports Illustrated's Richard Deitsch was along for the ride and chronicled Barkley's entire commute in a must-read piece for those who love Barkley, the MTA or jokes at the expense of New York's basketball teams.
CLICK HERE FOR RICHARD DEITSCH'S TRAVELOGUE
In addition to the video uploaded to YouTube by Sports Illustrated and Deitsch's intrepid reporting, the landmark journey was also chronicled with still photography. Here are a few key moments in Barkley's mass transit adventure:
PHOTO: This Is Charles Barkley Waiting For The Subway
PHOTO: There Is Charles Barkley On The Subway
Charles Barkley riding the NYC subway. pic.twitter.com/y0mfONktNd

— Richard Deitsch (@richarddeitsch) December 5, 2013
PHOTO: Here Is Charles Barkley Looking Like He Forgot Hand Sanitizer
Look who took the subway to tonight's @nyknicks and @BrooklynNets game. It's #SirCharles! pic.twitter.com/CKppOepago

— NBA on TNT (@NBAonTNT) December 5, 2013
PHOTO: Charles Barkley Arrives At Atlantic Avenue In Brooklyn
#SirCharles makes his way to the Barclays Center - he'll be calling tonight's @BrooklynNets and @nyknicks game. pic.twitter.com/mM0K79ky1Z

— NBA on TNT (@NBAonTNT) December 5, 2013
PHOTO: Charles Barkley Emerges Unscathed At Barclays Center