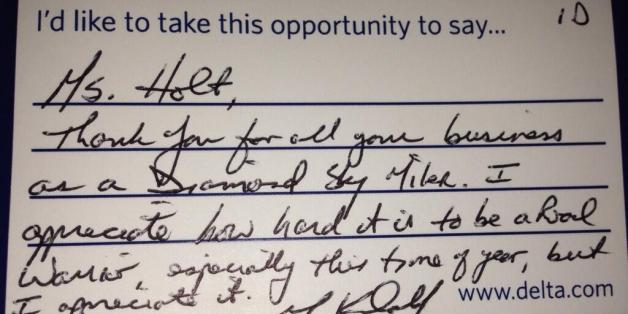 Gratitude at 30,000 feet!
Actress Claire Holt, who apparently is a frequent flier with Delta Air Lines, was clearly touched when the pilot of a recent flight sent her a handwritten note thanking her for flying with the company.
The Aussie star, known for her work in hit television shows "The Vampire Diaries" and "Pretty Little Liars," tweeted a picture of the note, written by Captain Mark Kendall on Tuesday.
(Story continues below.)
Wow. Received this note from Captain Kendall on my flight today. Truly thoughtful. Treat him well @DeltaAssist! pic.twitter.com/9QzCGdkLI2
— Claire Holt (@MissClaireHolt) December 4, 2013
"Ms. Holt, Thank you for all your business as a Diamond Sky Miler," Kendall wrote. "I appreciate how hard it is to be a Road Warrior, especially at this time of year, but I appreciate it."
A Delta Airlines spokesperson confirmed that the note had indeed been written by Atlanta-based pilot Captain Mark Kendall, a 25-year Delta airline employee, reports ABC News.
Pilots are encouraged to interact with passengers "when time permits," spokesperson Kate Modolo told ABC.
As one of Delta's Diamond Sky Milers, Holt also receives perks like a complimentary Delta Sky Club Membership, as well as priority baggage handling and security line access.