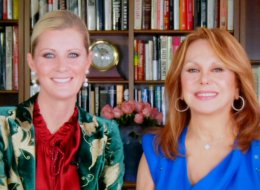 When it comes to holiday entertaining, sometimes it can be difficult to keep both the kids and adults happy at the same party. Luckily, I had the chance to ask Sandra Lee, Editor-in-chief of Sandra Lee magazine, for a quick and easy solution when she stopped by to chat on Mondays with Marlo.
Sandra recommends creating two distinct, separate spaces so that adults can drink and serve alcohol safely, and kids can have fun in their own special area. She suggests using fun, ornate glassware for kids and using sparkling apple cider or cranberry juice instead of soda for a bubbly, kid-friendly surprise.
Another great idea she mentioned was to set up a do-it-yourself, non-alcoholic drink bar for kids, so they can choose a special garnish (like cinnamon sticks), juice flavor and cup to make a signature sipper!
Find more of Sandra's delicious recipes here.
For more of Sandra Lee's holiday entertaining tips, view the slideshow below:
10 Holiday Entertaining Tips From Sandra Lee
Candy canes do double décor duty when used to give chair backs a festive finishing touch. Leave them wrapped, but trim excess plastic from around the edges and attach canes to chairs with pre-tied holiday bows.

Jazz up a faux green wreath to give your door a "berry Chistmasy" update! Find sprays or picks you like and adhere using a hot glue gun. Tie a multi-loop bow and attach to the front. Use more ribbon to create a hanger and glue securely to the back.

Dress up a simple cake using holiday themed candies, like marshmallow snowmen or Christmas trees. These sweet treats will stand out on top of a cake or around the edge for a unique dessert that will wow young guests as well as guests who are young at heart.

If you're in a time crunch, pick party foods that are delicious, impressive and fuss-free. Sandra recommends her Fancy Figs with Orange-Honey Drizzle, which can be prepared before guests arrive and served at room temperature.

Break out of the chips and dip mold! When it comes to pairing up cocktails and food, think creatively. Pick flavorful foods that will please and surprise your guests. Sandra recommends her Apricot Shortcakes or Chianti Poached Pears, which are both beautiful and tasty.

Make family memories the center of your celebrations. Situate your family photo within a woodsy setting this season using supplies you can easily find at a craft store, like little winter cardinals, faux sprigs of frosted greens and shimmering sparkle dust.

During this jolly time of year, guests who drop in unexpectedly are easily welcomed when your fridge is filled with great ingredients. Keep fresh mozzarella and tomatoes on-hand to whip up a festive, fresh Caprese salad. Also keep fridge stocked with pre-cut celery and carrot sticks, grape tomatoes, a vegetable dip and cheeses for another quick appetizer option.

Save big bucks by setting up a themed self-serve bar. Stock your bar with the basic essentials for a great foundation and print up a few recipes to help guide your revelers. For a cool, swanky vibe, serve classy cocktails with a creative touch, like Sandra's Golden Old Fashioned, and groove to Etta James and Michael Buble. For a festive party with a Latin American flair, crank up Celia Cruz or Shakira and serve-up Sandra's Mango Madras.

In love with mistletoe, the perfect snowflake or delicate silver bells? Choose a festive icon and use it sparingly in areas where it will make a major impact. Use it as a garnish or as a special touch on napkins, wine holders or other small decorations.

Remember, a relaxed host/hostess is a fun host/hostess. Make your cocktails in large portions before the party, and chill them for a few hours so they'll be ready to serve at a whim. That way, you can spend more time with your guests.
Add Marlo On Facebook:
Follow Marlo on Twitter:

Weekly Newsletter

Sign up to receive my email newsletter each week - It will keep you up-to-date on upcoming articles, Mondays with Marlo guests, videos, and more!

Sign up here