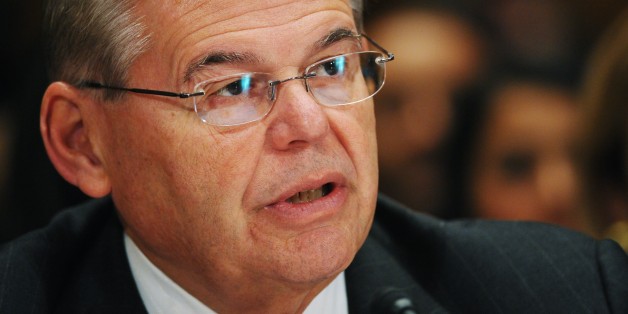 A federal grand jury in Miami has filed no charges against U.S. Sen. Bob Menendez and his friend and major campaign donor, Dr. Salomon Melgen, according to a report published by The Miami Herald.
The New Jersey U.S. Senator Democrat said nearly a year ago that the allegations against him were false and part of a smear campaign by a right-wing group to derail his re-election campaign on November 2012.
Sen. Menendez said last February that allegations that he engaged with prostitutes in the Dominican Republic are false "smears." He said he has done nothing wrong and that allegations otherwise are "totally unsubstantiated."
"It's amazing to me that anonymous, nameless, faceless individuals on a website can drive that type of story into the mainstream. The bottom line is all of those smears are absolutely false," said Menendez.
According to the Miami Herald, the pronouncement of the federal grand jury would be a public vindication of Sen. Menendez, chairman of the powerful Senate Foreign Relations Committee. On the other hand the Senate Ethics Committee is investigating the case.
The Miami Herald also reported that the federal grand jury is "still reviewing evidence of Menendez's intervening with U.S. government officials on behalf of Melgen regarding the physician's billing dispute with Medicare and his port-security contract in the Dominican Republic".
Sen. Menendez confirmed last February that he asked for a clarification to the law because its ambiguities and the differences on the billing rules for administering the drug called Lucentis. This drug is use used to treat macular degeneration in mostly older adults suffering from loss of vision because of retina damage.
The dispute with Medicare is an ongoing administrative case and Dr. Melgen has fully cooperated with the government, according his attorney Matthew I. Menchel.
According to the Miami Herald, Dr. Melgen sued the U.S. Department of Health and Human Services in Miami federal court to recover those Medicare payments for 2007 and 2008 — funds ($9 million) that the doctor had returned to the government during his administrative appeal.
Disclaimer: Dr. Salomon Melgen is the co-founder of VOXXI.
Originally published on VOXXI as Grand jury finds no basis to indict Sen. Menendez
EARLIER ON HUFFPOST:
PHOTO GALLERY
BEFORE YOU GO
Dumbest Commentary About Latinos In 2012
PHOTO GALLERY
Dumbest Commentary About Latinos In 2012