The Sexy Splurge That Got Me Through My Split
If there's ever a time you need a little distraction in your life, it's during the divorce process. That's why we launched our Divorce Care Package series. With each post, we'll show you what things -- books, movies, recipes -- helped others relieve stress in the midst of divorce, in the hopes that a few of their picks will serve you well, too. Want to share what got you through your divorce? Email us at divorce@huffingtonpost.com or tweet @HuffPost Divorce
Los Angeles-based writer and comedian Mara Shapshay's post-breakup survival kit includes a little something for everyone: a Molly Ringwald rom-com, a Star Wars reference... and no shortage of vibrators. "Don't judge me," she says, "but I bought some expensive sex toy -- specifically vibrators after my divorce."
No judgment here. See what else helped Mara through her divorce below, but first, there's something she wants you to know: There is totally, 100 percent life -- and love -- after divorce.
"I want to give women out there hope that if you're patient and keep the faith that you will find true love," she tells us. "I just recently got remarried to my soulmate. It happened when I least expected it. There is life after divorce."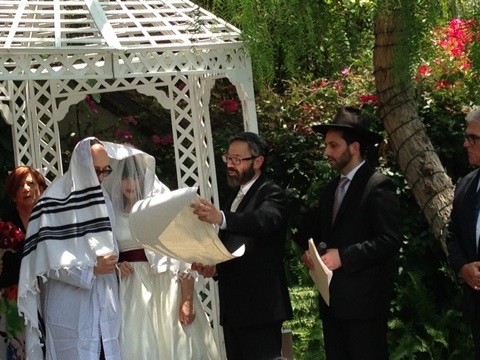 (Mara on her wedding day!)
What Got Mara Shapshay Through Divorce
"I kicked it old school and watched 'Pretty In Pink' about 50 times. There was always something special about Andie (Molly Ringwald) and Blane (Andrew McCarthy) knew it. I love when Blane tells Andie, 'You said you couldn't be with someone who didn't believe in you. Well, I believed in you. I just didn't believe in me. I love you... always.' I knew that if I kept the faith that there would be someone out there who would feel that way about me."

"During my divorce I decided to try my hand at stand-up comedy because after all, pain plus time does equal comedy. I took a class and we had our graduation at The Comedy Store in the Belly Room. My second gig was the Main Stage at The Comedy Store and I've been performing at all major clubs since. In my routine there is no shortage of divorce jokes, that's for damn sure."

"Okay, I'm going to say it and don't judge me, but I bought some expensive sex toys, specifically vibrators, after my divorce. I went six years without sex in my marriage to a questionably gay man. Yes, I had some lady pleasure equipment but I upgraded while going through my divorce to some serious light sabers."

"Two songs got me through my divorce: Linda Ronstadt, 'You're No Good.' And, of course no female empowerment playlist would be complete without a little Beyonce. I had Beyonce's 'Irreplaceable' on a constant loop on my iPod."

"My ex-husband generously kept our townhouse and all the money we had. What made matters worse was that I got fired from my job and was getting sober all at the same time. I lost everything and was sleeping in my car. A celebrity who was made famous for her role as an outer space princess with buns on the sides of her head took me in and saved my life. Because my 'old life' completely fell apart, the book that helped heal me was Pema Chödrön's 'When Things Fall Apart.'"

"It would have to be this quote from Pema Chödrön's aforementioned book."

"I would go to the Self-Realization Fellowship in the Pacific Palisades for meditation services and while there I bought a photo of SRF's founder and guru, Paramahansa Yogananda. When I looked at the photo I felt a peace and calm come over me."

"I ate two things religiously while going through my divorce, Vanilla Ice Blendeds from The Coffee Bean and Tea Leaf and chicken quesadillas from Baja Fresh. FYI, from experience, don't eat those together, you will vomit."
Keep in touch! Check out HuffPost Divorce on Facebook and Twitter.