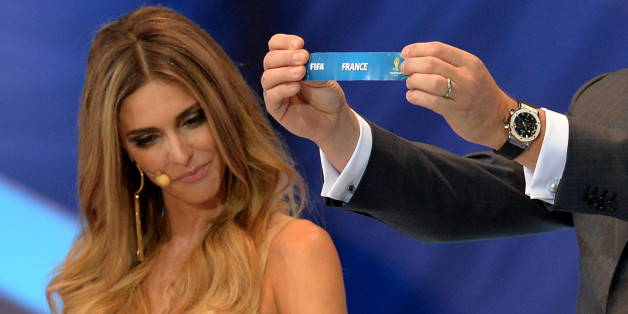 Brazilian bombshell Fernanda Lima, started to trend on Twitter for her hosting part in the World Cup draw, acquiring thousands of new followers on the social network.
The 36-year-old was co-hosting the World Cup draw along with her husband Rodrigo Hilbert, members of FIFA, and special guests such as Ronaldo, Pele, Zidane and Hierro.
Fernanda Lima is a Brazilian actress and model known in Brazil for appearing on game shows, and has also appeared on-screen in Brazilian films.
However, Lima found herself at the middle of a racism scandal just four days before the draw because a Sao Paulo state prosecutor had asked FIFA and the company it hired to organize Friday's draw to explain why it chose Lima and her husband Rodrigo Hilbert to present the televised show instead of two darker-skinned actors.
FIFA released the following statement:
The selection of Fernanda Lima and Rodrigo Hilbert was mainly based on the positive experience made during the launch of the Official Emblem and the Preliminary Draw.

FIFA's stance against any form of discrimination and racism which is even enshrined in our various regulations amongst others is well known.
Fernanda Lima trending on twitter:
According to reports, Lima started trending on social media with up to 10 people posting updates about the Brazilian TV presenter every single second worldwide on Twitter.
I'm having trouble paying attention to anything but Fernanda Lima right now. #WorldCupDraw
Sorry can't hear what Blatter is saying, totally eyeing Fernanda Lima !!!
Just have Fernanda Lima on screen throughout the whole process please. #FinalDraw
WOW.. That Fernanda Lima. Brazilian girls are the best!!!
Fernanda Lima presenting the World Cup draw. Really hard to stay professional.
Earlier on HuffPost:
50 Most Beautful Latinos in Hollywood
SUBSCRIBE AND FOLLOW
Get top stories and blog posts emailed to me each day. Newsletters may offer personalized content or advertisements.
Learn more