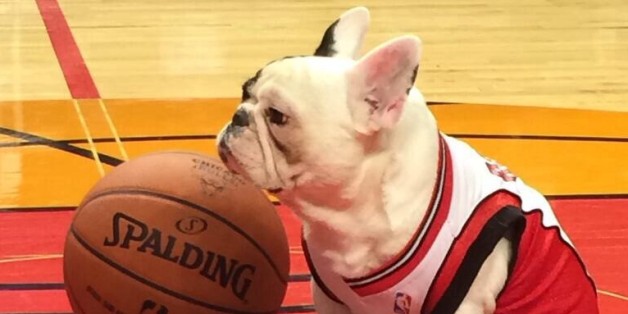 The Bulls already have the most popular mascot in pro sports, but what about a good luck charm?
The world's most famous French bulldog on the internet, Manny The Frenchie, appears to have brought a dose of good luck to the Chicago squad as he posed with staff and fans during the Thursday game against the Miami Heat.
(See photos from Manny's visit to the Bulls-Heat game below.)
Not only did a a wave of smiles follow the Frenchie wherever he went at the United Center, the Bulls went on to hand Miami their worst loss since April 2012 before a sold-out crowd.
Oh, and as you might have heard, Manny hung out with the Bulls' cheerleaders before they helped drop this awesome surprise marriage proposal on their fellow Luvabull, Ariana Rosado:
Given the team's less fortunate showing against the Detroit Pistons two days later, we humbly suggest the squad make pals with their four-legged fan.
PHOTO GALLERY
BEFORE YOU GO
Manny The Frenchie Roots For The Bulls
PHOTO GALLERY
Manny The Frenchie Roots For The Bulls
ALSO ON HUFFPOST:
PHOTO GALLERY
BEFORE YOU GO
A Surprise Luvabull Proposal In Chicago
PHOTO GALLERY
A Surprise Luvabull Proposal In Chicago