Sticking needles in your lips doesn't sound like our idea of a good time. But Britney Spears, ever the happy-go-lucky type, recently admitted to getting lip injections that were, from the sound of it, a treat.
Getting candid in the January 2014 issue of InStyle, Brit said:
I just bought the new Shiseido face wash and moisturizer. I have no problem trying new brands. A doctor I see, [Beverly Hills plastic surgeon] Dr. [Raj] Kanodia, does fun stuff to me sometimes -- I've had lip injections before. He has this peptide-based face-care product; it's green and slimy, and you mix it together and put it on your face. It does wonders. You leave it on overnight. Can you tell I love skin care?
Celebs have a rather skewed idea of what's "fun stuff." But we're totally down with the slimy peptide product and whatever else Brit's using. With a long, grueling career like she's had, not to mention a reported bout with psoriasis, Spears probably has some great skin tricks up her sleeve.
We'll just avoid the "fun stuff" for now.
Read more from Britney's InStyle interview at InStyle.com and see the cover here. Her skin does look great...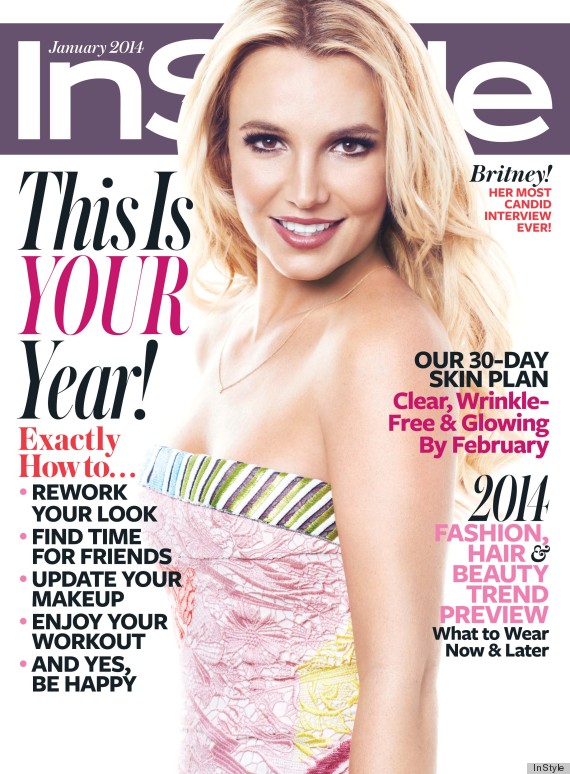 Not everyone was so happy with their procedures:
Gwyneth told Harper's Bazaar in 2013, "I won't do Botox again, because I looked crazy. I looked like Joan Rivers!"

We all know Joan Rivers is a walking plastic surgery job -- she has reportedly had over 789 surgeries! But not all operations are equal to the funny woman. In 2009, she told "People" she regretted getting liposuction. "I didn't check out the doctor and the result wasn't smooth," she said.

"I wish I'd never had my breasts done the last time," she told New Magazine. "They've put these bloody great bags in that are too f***ing round--it's like a water bed on your chest." (Getty photo)

The youthful-looking actress regrets getting Botox. "I didn't like how my face looked afterwards. Now I don't use it anymore -- I can move my forehead again!"

The singer has been vocal about how it's important to be natural. But during an interview with "Glamour" in 2006, she told the magazine she regretted getting lip injections. "I had that Restylane stuff. It looked fake to me. I didn't like that. But it went away in, like, four months. My lips are back to what they were. Thank God!"

She told "People" in 1992 that she regretted getting breast implants. She got them after giving birth to Chaz and did not want to part with her naturally enlarged breasts due to pregnancy. "They got so much bigger and I couldn't bear to see them deflate. My breast operations were a nightmare. They were really botched in every way. If anything, they were worse after than before."

The outspoken actress always said she was an opponent of plastic surgery but she caved when she 72 years old and regretted it. She got her eyes and neck restructured. "If I was really brave, I would have not. I vowed I wouldn't -- I did, and I don't feel proud of it. It made me look more like I feel. But I don't want to do it again."

The always-hilarious Griffin wrote in her memoir that her liposuction surgery made her look like a "CSI crime scene photo." "I want women to know when you get liposuction trying to be Jennifer Aniston, this is what it really looks like."

"When I was 19, a doctor put in bigger implants than what I asked for. I was in such a hurry to get them that I didn't research my doctor," Richards told Us Weekly. "I just thought because they're a plastic surgeon, they must be good. You have to be your advocate for your own body and ask 100 questions." Later Richards wrote: "At 19 when I first got my breasts done, I wish that I was confident enough with my body to not have had surgery. That is something that I really want to encourage in my daughters, to embrace their healthy body and have confidence. I actually feel more confident in my skin now than in my 20's. Being confident is one of the sexiest qualities a woman can exude." (Getty photo)

"Me and my friends found a doctor in Arizona that cost about $1,500 to get our boobs done--because they didn't use anesthesia and I didn't know it," McCarthy told WENN. In a later interview with Us Weekly, the former playmate said she was "too young" when she got her implants at 19. (Getty photo)

In an interview with British Vogue, Victoria was asked about the absence of her "torpedo bazookas," to which the former Spice Girl reportedly replied, "gone". (Getty photo)

The actress told InStyle in 2010 about how sometimes she overdos it with botox injections. She said, "I feel weird if I can't move my face, and that one time I overdid it, I felt trapped in my own skin."

Some stars need a few operations to learn their lesson. Such is the case with Love. In 2003, Love got liposuction on her butt and said, "Nobody should lipo their butt. I've flattened my perfect fat a**!" Then, in 2007, she regretted her lip injections. She wrote on MySpace, "I just want the mouth God gave me back; it was perfectly cute, and I had nice big lips." Finally, the singer regretted her nose job saying she "hated that nosejobby nose, it was like a little beak."

She regrets getting breast implants that took her from a 32B to a DD. "I didn't want to go as big as that. It's nice that I don't have to wear a push-up bra any more, but I could have left myself alone. I think I was fine the way I was. I had nice breasts before -- though they were small."

When she was 22, she got surgery to go from a B-cup to a C-cup. "It was so dumb... I just got the idea in my head one day, and that was that. There was no talking me out of it," said Kardashian in an interview with Us Weekly. (Getty photo)

The Hills star -- now a size "E or F" depending on the bra--had a staggering 10 procedures done in one day. "I'm obsessed with fitness but it's impossible to work out with these boobs," Montag told Life and Style Magazine. "It's heartbreaking. I can't live an everyday life." (Getty photo)

The actress wishes she didn't alter her nose -- the one feature that made her a distinguishable actress. I went in the operating theatre a celebrity -- and came out anonymous. I'll always be this once-famous actress nobody recognizes... because of a nose job."

In an interview with Now Magazine, Kimberly states her famous father was supportive of his daughter when she had the implants put in at 18, and even more supportive when she decided to get rid of them. She recalls, "He's very supportive of whatever I do. He was just like, 'If you don't feel comfortable, if you don't feel safe, just get them removed.'" (Getty photo)

"When I had implants, I felt uncomfortable," the former porn star told Us Weekly. "I would be shy at the beach. I know it sounds funny, but I'd wear high-necked clothes, unless I was at an adult-film convention. So I thought, 'why don't I be who I am and get my real ones back?'" (Getty photo)

"I was a 34B, but the right one was always bigger than the left," she told Us Weekly. "He gave me Cs, and I didn't want them. At all." (Getty photo)

"Well, I got my boobs done in my early 20s," Spelling told Good Morning America. "If I had known that it would or could possibly impact production of milk, I wouldn't have had them. I love being a mom. I am on my third baby. We want to have more. That's my role... these don't matter." (Getty photo)

Related video
Want more? Be sure to check out HuffPost Style on Twitter, Facebook, Tumblr, Pinterest and Instagram at @HuffPostStyle.