 During the holiday season, it can be hard to keep track of all the shopping deals. Sometimes the great buy comes only after you've ordered an item -- the ultimate "d'oh!"
But thanks to the sleuthing of the penny pinchers at the r/Frugal subreddit, an unadvertised Amazon policy that can save you money has been discovered. Using it, customers can receive a refund of the price difference on an item if its price drops within seven days of delivery.
All it takes is reaching out to Amazon customer service.
In a chat with an Amazon customer service rep, Reddit user poorsoi explained that a wine rack he or she purchased for $28.52 was subsequently discounted by about $8. Amazon quickly offered a refund.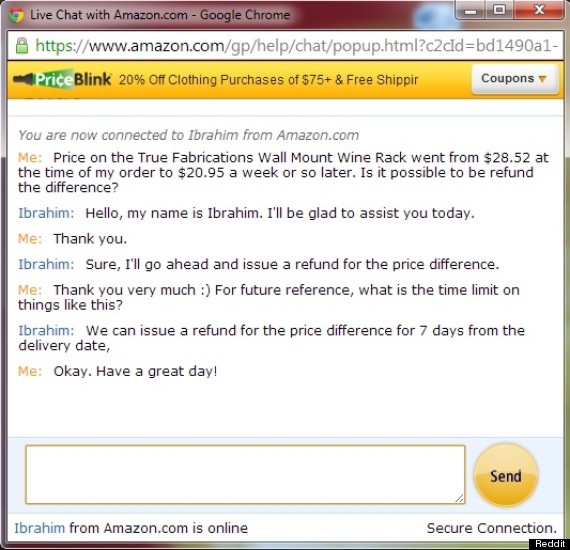 Though the policy is not explicitly mentioned on Amazon's website, Business Insider was able to confirm it with an Amazon representative in a separate conversation. The Huffington Post reached out to Amazon for comment, and will update if the company responds.
[h/t Business Insider via Lifehacker]
EARLIER ON HUFFPOST:
PHOTO GALLERY
BEFORE YOU GO
Inside One Of Amazon's Mind-Boggling Warehouses
PHOTO GALLERY
Inside One Of Amazon's Mind-Boggling Warehouses